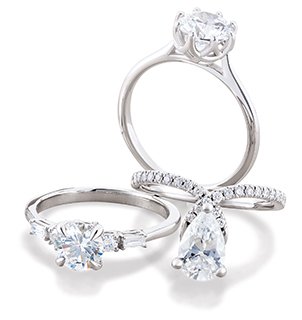 Peerless Platinum
Platinum's unique attributes help you sell it. And with gold prices high, it's an excellent time for customers to buy platinum. The key is to offer platinum as an option and explain the lasting benefits of platinum over other precious metals. The Platinum Center provides valuable information on platinum's features that will help you sell more of it as well as links to our wide selection of platinum jewlery and mill products.
Selling Platinum
Color
Platinum's natural white never needs plating. It's color doesn't change, and over time, platinum jewelry develops a characteristic patina — the hallmark of authenticity.
Security
Platinum's strength provides maximum security for diamonds and gemstones. Whatever metal customers choose for the shank, suggest a platinum head to secure their stone.
Heirloom Quality
Platinum's durability and density mean that it will weigh the same in 50 or more years as it does today. It is ideal for a family heirloom future generations will know and love.
Care and Maintenance
Customers can clean platinum at home with a jewelry cleaning solution. And once a year, have customers bring their platinum jewelry to you so you can check the stones and polish it.
Training Modules
History & Heritage of Platinum
Today's Platinum Consumer
Guiding The Buying Decisions
Related

Blog Posts and Articles
A Quick Look At Platinum Metal History
Take a look at platinum's historical high points
Today, we take for granted that platinum is a coveted precious metal. But how long have we actually known this? Only since 1751 — a mere 270 years...

Read More
High Melts vs. Low Melts - Casting Metals, Tools, and Tips
The best casting methods and tips for different metals
As metals with high melting points are too dense to use in a vacuum and freeze quickly, centrifugal casting machines are the preferred option...

Read More
Tools and Techniques to Make the Job a Whole Lot Easier
Here are a few things you need to know about working with platinum
Platinum in its finished state is an absolutely beautiful metal. It can also be a little tricky when working it due to the softness of the metal...

Read More
Your Guide to the Perfect Platinum Polish
Here is a break down of each polish and even its complementing buff
Platinum has properties all its own. Looking for that perfect finish, but don't know exactly how to get there. No worries, below we give you a break down of each polish and even its complementing buff...

Read More
Annealing Gold, Silver, and Platinum
General Annealing & Softening Guidelines
Annealing is a process, which eliminates the stresses created during mechanical working or deformation of an alloy, so that the material can be restored to maximum softness. In the metals industry, this involves heating a metal...

Read More
How To Size Down A Platinum Ring Using A Torch
How To Size Down a Platinum Ring
Sizing a platinum ring doesn't have to be difficult. The proper way to size a platinum ring is through welding. The following procedure will leave no seam and is totally invisible. Follow these quick steps to success. First remember to remove all stones before beginning...

Read More
Platinum- Your Questions Answered
Here Are a Few Popular Questions We Often Receive
What's not to love about platinum? It's the densest of the precious metals, can stand up to a lifetime of everyday wear, and is even hypoallergenic, making it a perfect...

Read More
Platinum Frequently Asked Questions- Part I
Most frequently asked questions we get about platinum
The May edition of From the Bench provides you a whole host of resources about platinum. We decided to take it a step further by consulting Stuller experts Randy...

Read More
10 Step's to Sizing Down a Platinum Ring
How to Size down a platinum ring and the tools needed to do the job
Here is a ten step process to size down a platinum ring and the tools needed to do the job. To size this platinum ring down, begin with determining how much metal needs to be removed...

Read More