MORE PROFIT. MORE TRUST. MORE HEFT.
Considered the noblest element, platinum is 30 times more rare than gold and is the most pure precious metal. Profit margins for platinum are much higher than gold and as a true white metal it requires no plating. Platinum allows you to build trust with your customer by offering the highest level of security for precious center stones, as nothing holds a diamond more securely over time than a platinum head. The heaviness of platinum metal in comparison to others helps you sell more, as it looks beautiful and feels significant and strong.
PLATINUM ALLOYS
Pt950/Ruthenium (Ru) is the best choice for multipurpose use. It is ideal for machining and fabrication. Casting will deliver good results.
Pt950/Cobalt (Co) has a very fine grain and is ideal for casting. It is slightly Ferro-magnetic and oxidizes at about 1,000˚C. The oxidation can be easily removed.
90/10 Platinum/Iridium (Pt/Ir) is a comprehensive platinum alloy. It can be used for all applications but is best suited for fabrication.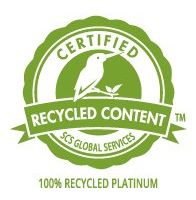 View Certificate