Lab-Grown Diamonds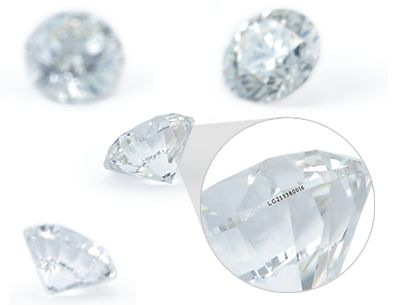 ABOUT LAB-GROWN DIAMONDS
Lab-grown diamonds are not simulants like CZ. They are diamonds. Instead of forming over millions of years in the earth's mantle, they are created in rough crystal form by scientists. They are optically, visually, and chemically identical to natural diamonds.
---
THE BENEFITS OF CREATED DIAMONDS
Price: Depending on size and quality, they usually cost between 30-40% less than their mined counterparts.
Ethical Appeal: For consumers concerned about ethical issues surrounding mined diamonds (whether real or imagined), lab-grown diamonds present an attractive alternative.
---
HOW OUR CREATED DIAMONDS ARE MADE
There are two primary methods used to create diamonds in a laboratory: CVD (Chemical Vapor Deposition) and HPHT (High Pressure High Temperature). Our product involves a combination of both.
The HPHT method involves the application of high temperatures and pressures to a small seed crystal, while the CVD process "grows" the diamonds from the chemical reaction of distilled carbon gas and a seed crystal.
Our lab-grown diamonds are created using either the CVD (Chemical Vapor Deposition) method or HPHT (High Pressure High Temperature).
Our UNBEATABLE SCREENING INTEGRITY
We lead the industry in robust diamond screening practices. We've invested in the De Beers Automatic Melee Screener (AMS), and we follow best practices in the operation of the machine. We use the AMS to screen stones under .23ct, and we manually test stones above .23ct.
Please note that Stuller does not sell or house lab-grown melee in our facility. All of our lab-grown diamonds are .23ct and above.
Lab-Grown Diamond Studs
Get the same beautiful, classic look of diamond stud earrings at a fraction of the cost.
Our MISSION
Part of Stuller's mission is to give jewelers every product option they need to thrive. Stuller carries created diamonds in order to hold true to that promise. Many of our customers carry man-made diamonds with great success, and many continue to see demand for these items grow. We want to help answer that demand.
Trade Up Program
As of November 1, 2016, your customer can receive full credit for her Lab-Grown Diamond when she trades it up for a higher priced lab-grown diamond in our active inventory.
*Subject to change
LAB-GROWN PROCESSING PROTOCOLS
Our created diamonds arrive at Stuller with —
A certificate from GCAL (Gem Certification and Assurance Lab) or a grading report from IGI (International Gemological Institute)
A unique inscription on the girdle
While at Stuller, lab-grown diamonds are —
Housed in a completely separate vault
Stored and shipped in a distinct, blue acrylic box
Always handled separately from natural diamonds