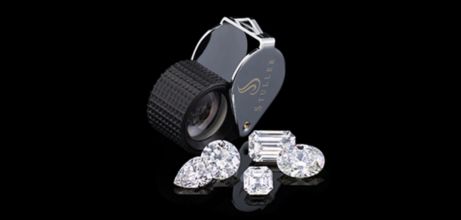 Stuller's Diamond Screening and Testing
Lab-grown diamonds (LGD) are increasingly popular, offering consumers highly attractive price and quality options. But our industry and reputations suffer when distributors sell undisclosed lab-grown diamonds (ULGDs).
Understand the Extent of the Problem
In early 2017, the GIA's lab in Mumbai screened a melee parcel and found almost one-third of the stones were lab grown.
Later in 2017, legendary diamond analyst Chaim Even-Zohar estimated that lab-grown diamonds valued at $750 million entered the global supply chain in 2016.
Stuller Has Taken a Leadership Position
As a major supplier, we are in a position to protect our supply chain, your reputation, and your customer's confidence. We gladly accept this responsibility by maintaining
A zero-tolerance policy for ULGDs.
Stuller Lab, an advanced diamond screening lab run by a full-time Graduate Gemologist.
A strategic services arrangement with GIA.
The ability to screen all shapes and sizes of loose colorless melee (D to N) as well as jewelry.
Stuller's ULGD Policy
Stuller does not tolerate undisclosed lab-grown diamonds in our inventory. As added security, we further require our suppliers to screen all diamonds for lab-grown diamonds. Random samples of diamonds from all of our suppliers are also periodically sent out to leading laboratories to check for lab-grown diamonds. By incorporating these protocols, Stuller extends confidence and security to our customers, ensuring that you are getting exactly what you purchase.
Technology We Use
Stuller's diamond screening lab has the advanced instrumentation used by laboratories around the world, and we maintain this level through continuous investment. Our screening technology includes
De Beers' second generation AMS2 which tests 3,600 stones per hour including many fancy shapes.
De Beers' SYNTHdetect and PhosView™ and the GIA® iD100™ Gem Tester.
Three advanced analytical spectrometers: the Fourier-Transform Infrared (FTIR), the Raman-PL, combining Raman light scatter spectroscopy with photoluminescence, and the UV-Vis-NIR, or Ultraviolet Visible Near Infrared spectrophotometer.
A J-Secure Plus for screening jewelry.
Melee Analysis by GIA®
Stuller has a strategic service arrangement with GIA (Gemological Institute of America®). As an independent entity from Stuller located inside of our facility, it is staffed by GIA's screening specialists, and they use GIA's proprietary technology to perform the work. 
GIA's instruments screen round melee diamonds in sizes 0.9mm to 4mm. The technology also sorts and color grades (D-to-Z) natural diamonds.