Watchbands Quick Shop
This shop features our best-selling watchbands in a variety of materials widths and lengths. The leather and genuine exotic bands ship with pre-inserted spring bars and two buckles: a white and a yellow. Metal watchbands have multiple end pieces. More benefits include next day delivery, excellent pricing, and no minimum requirement.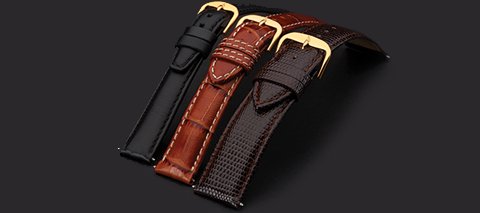 Watchband Adapter
Watchband adapters for use with Apple Watch®. Quickly turn any of Stuller's broad selection of 20mm or 24mm leather watchbands into compatible bands.Choose between the spring bar or the original screw type in silver, black, or gold.
Use 20mm Bands to Fit the 38mm Watch
Use 24mm Bands to Fit the 42mm Watch
Spring Bar Adapter Includes a Mini Fork Removal Tool
Screw Type Adapter Includes a Mini Star Bit Screwdriver
Apple Watch® is registered trademark of Apple, Inc. The adapter offered above is not manufactured, authorized, or endorsed by Apple, Inc.
Leather Watch Straps

---
Exotic Watch Straps

---
Metal Bands - Link

---
Metal Bands - Expansion

Leather Watch Straps

---
Exotic Watch Straps

---
Metal Bands - Expansion

---
Metal Bands - Link