Two-Stone Jewelry
The romance and flowing asymmetry of two-stone rings have won the hearts of bridal customers everywhere. This selection includes bestsellers in three popular categories so you have many ways to achieve the look you want. The customizable 3C® styles offer multiple stone shapes and metal qualities. Two-stone rings hold great appeal as engagements rings, anniversary gifts and right-hand rings.
---
Accented Two-Stone Mountings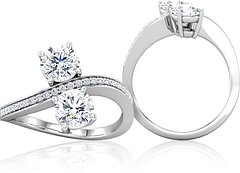 Graceful diamond accents create trails of light that lead to the two stones at the heart of these designs.
---
Classic Two-Stone Mountings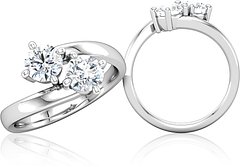 Simple and elegant, these classic designs draw the eye to the two stones, with their deeply felt message: two stones, two hearts, one love.
---
Halo-Style Two-Stone Mountings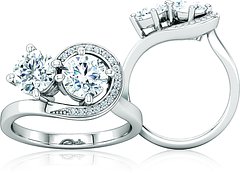 The stones appear to be dancing with light, swirling and crisscrossing with effortless synchronicity. Together and individually, they reflect your commitment.