Shop Set Up Services
Our Tools Tech Team is ready to help you design your dream workspace. Whether your shop needs a small upgrade or a full revamp, the team members are product experts who will work with you to find the tools and equipment aimed at the casting, mold making, plating, polishing, CAD/CAM, and bench areas of your shop. They will help you determine which tools and equipment will fit your space, budget, and job capacity. The catch? There isn't one. It's free.
Why should you update?
There are a number of reasons.
Improve technology.
Updated health and safety regulations.
Increase efficiency (save time and money).
Decrease or increase footprints.
Take stock. It may be time to replace the old machine taking up shop space for one that does more in a shorter timeframe and fits in a smaller space.
Shop Set Up Success Stories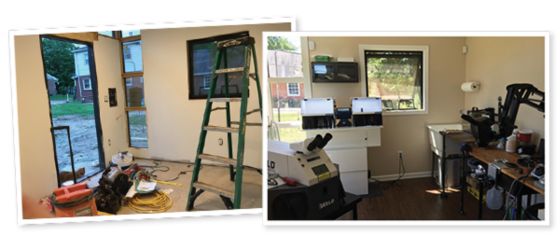 "I needed it all. I would say about 95 percent of the tools that any jeweler needs I bought from Stuller. It was so easy to get everything all in one place together for me. So it was great."
- Liz Schindler, Owner of Esch Metals, Mechanicsburg, Pennsylvania
Check out the full story on page 10 of the August 2017 issue of From the Bench.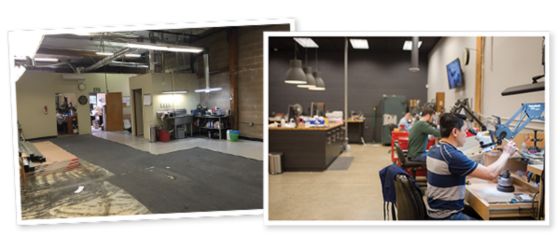 "Andy reached out to me and was super helpful through the whole process. He has access to so many tools that it just makes our lives a lot easier. He's super quick to respond, too."
-Gabriel Wall, Owner of Olympic Manufacturing, Seattle, Washington
Check out the full story on page 14 of the August 2017 issue of From the Bench.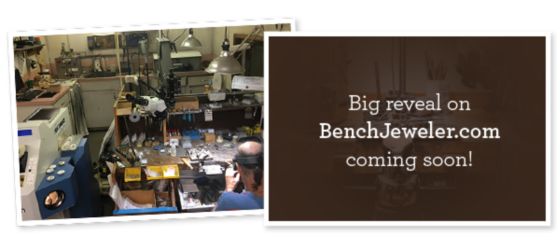 "I brought my jeweler with me to come look at the equipment Stuller had. We were able to sit down at the bench. We were able to touch some of the equipment and kind of get a feel for it."
-Glen Fakier, of Fakier Jewelers, Houma, Louisiana
Check out the full story on page 12 of the August 2017 issue of From the Bench.
Have Some Questions?
The Tools Tech Team experts are here for you. Give them a call at 800-877-7777, ext. 4300, or send an email.
From left to right: Kristi Broussard, Carla Gaspard, Paula Romero, Chris Romero, Steve Miller, Andy Kroungold, Austin Green, and Pam Landry.