Enhance Your Repair Business from the Start
A recent survey conducted by INSTORE Magazine reported that nearly 42% of jewelers generate more than 50% of their profit from repairs and repair accounts for approximately 40% of all in-store foot traffic. These facts only reinforce the need for a strong repair business. Get the most out of your store's and make sure you streamline your take-in process, that you stock all necessary replacement parts, that you have the tools for success, and that you can return the piece your customer entrusted to you better than you received it. Ask yourself these questions.
Who in your store takes in repairs? What qualifications or experience do they have? Is the bench jeweler consulted during the process?
What tools and technology are used in the repair and take-in process? Do you utilize newer methods or approaches?
What is on your current repair checklist?
Do you consider time, skill of labor, and materials used when determing repair charges? Is labor something you frequently discount or negotiate?
Featured Videos
How to Use the Best Built Engraver
RS Globus Ltd Sets for Use With Micro Ball Vise
Watch Polishing with a Muslin Buff

New Year, New Catalog:
Tools, Equipment, & Metals 2021-2022
This new catalog is your ultimate resource to equip your bench with Stuller's newest offerings.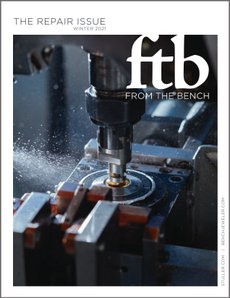 From the Bench Repair Issue