Boost Your Repair Business
All month long, we're combining the latest tools and techniques with the best business tips to help strengthen your repair services.
On average, jewelry repair services contribute 15% or more to a store's annual revenue while accounting for 60% of foot traffic. This gives you immense opportunity to generate profit, both with repair work and with upsells.
Display a chart with a breakdown of your repair services and prices. This reduces haggling and gives you the opportunity to explain the value they'll receive, including the steps involved and your years of repair experience.

Tammy Lail
Stuller's Vice President of Merchandising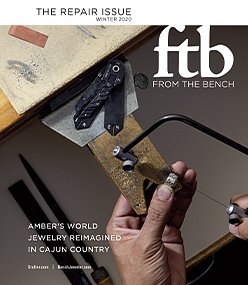 From The Bench: The Repair Issue
Our latest issue focuses entirely on repair—from the latest tools and techniques to a bounty of business tips. We've also featured a few inspiring success stories from jewelers with distinctive paths and passions.
---
DiaTrue CS Scanner
Shop the Video
Orotig MiDi Laser
Shop the Video
How to Use the Best Built Engraver
Shop the Video
RS Globus Ltd Sets for Use With Micro Ball Vise
Shop the Video
Watch Polishing with a Muslin Buff
Shop the Video