Religious Medals
Faith-based gifts are always popular. Choose from bestselling medals depicting a number of your favorite spiritual icons. Many styles are available in 14kt yellow, 14kt white, and sterling silver. Some medals have the option of being engraved.
---
St. Christopher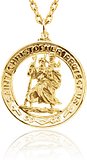 Legend holds that in the 3rd century St. Christopher carried the Christ child across a raging river. Since then he has been honored as the patron saint of travelers. (July 25th)
---
Miraculous Medals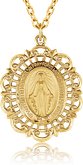 In 1830, the Virgin Mary appeared to a nun named sister (now Saint) Catherine Laboure in Paris and showed her a vision of this exact medal, front and back, which she directed to be struck and distributed.
---
St. Michael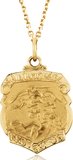 One of the archangels, he is the very popular patron saint of policemen. Also Radiologists (September 29th)
---
4-Way Cross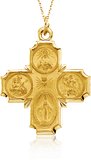 A four way cross pendant contains a Sacred Heart of Jesus Medal (also called a Scapular Medal) at the top of the four way cross, a Miraculous Medal at the bottom of the four way cross, a St. Joseph medal on the left of the four way medal, and a St. Christopher medal on the right of the four way medal.
---
St. Jude

One of the twelve apostles, known as the saint of the impossible. Hospitals (October 28th)
---
St. Anthony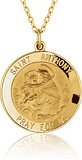 Also called the wonder worker. A Franciscan preacher who lived in the 13th century. Widely known as the saint who helps people find lost objects. (June 13th)
---
St. Joseph

Husband to Mary and the foster father to Jesus. Dying, Workers, Universal Church (March 19th)
---
St. Florian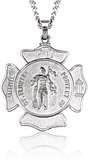 Held a high administrative post in the Roman Army. He is very popular patron saint of firefighters. (May 4th)