Red Box Diamonds® Benefits
Reputation Building Solutions
BENEFITS FOR YOU
Hand selected and individually graded, our Red Box Diamonds bring benefits that support your sales and build your business.
Rebates
Your yearly Red Box Diamond purchases earn you rebate reward dollars.
| Number Purchased | Rebate Percent |
| --- | --- |
| 10-19 | 1.5% |
| 20-29 | 2% |
| 30-39 | 2.5% |
| 40-74 | 3% |
| 75+ | 4% |
Accounts in good standing throughout the year are eligible. Status reports mailed quarterly. Rebate offer not valid with any other offer.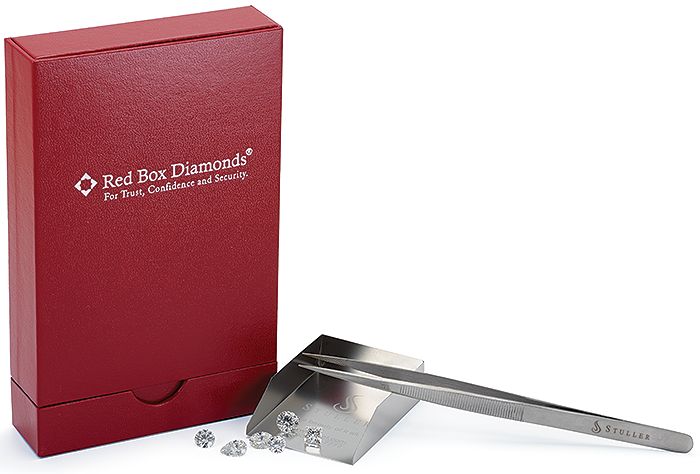 Accurate Grading
Every Red Box Diamond comes with a grading report from an independent lab or our team of GIA and AGS trained experts. Stuller graded diamonds are graded to GIA standards.
Unique Identifier
For proof positive identification, each Red Box Diamond is laser inscribed with the unique number on its grading report.
Conflict Free
We are committed to selling diamonds ethically and with integrity, giving you confidence in the diamonds you purchase. We believe it is completely unacceptable to tolerate conflict diamonds and/or human suffering in any way and we fully support the Kimberley process. Stuller Inc. offers this commitment to you. In turn, it can act as your commitment to your customers. The Kimberley Process ensures that rough diamonds are:
Exported and imported with a government validated Kimberley Process certificate stating the diamonds are conflict-free.


Transported between signatory countries in a sealed and tamper-proof container.


Sold with a statement from the seller (known as a warranty) on all invoices guaranteeing that the diamonds being sold are conflict-free.


This same warranty appears on all documents for Product Review/Conditional Sale items, andon invoices for the products you purchase from Stuller.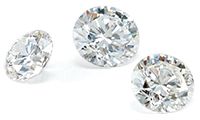 Trade Up Program
Your customer receives full credit* for her Red Box Diamond when she trades it up for a higher priced Red Box Diamond in our active inventory.
*Diamond must be in original condition as when sold by Stuller.
Free Loss Protection
To build loyalty, trust and security for your customers, each Red Box Diamond comes with 1-year complimentary insurance through GemShield®. The coverage offers immediate protection against loss, theft, or damage.
Fill out the activation form for your customer and fax it to GemShield. Coverage is immediate upon receipt of the form. If a loss occurs within the free year, your customer will return to you for replacement. Stuller replaces the diamond through you at no cost to you or your customer.


When the free year is up, GemShield contacts your customer and offers a personal jewelry insurance policy. They direct the customer to your store to assist them with the application, verify that the value is accurate, and have the jewelry inspected. This gives you an opportunity for another sale.


Renew your customer's policy and/or offer to insure the entire jewelry piece by becoming a GemShield Retailer. Stuller customers receive free enrollment. Call 800-932-3062.
Attention customers: Please use this email address info@gemshield.com and this fax # (513) 672-0859 when submitting your customer's activation forms.
Buy With Ease
You will receive all Red Box Diamond orders placed before 5pm Mountain Time, the next day.


Our 5 calendar day Product Review/Conditional Sale Policy helps you give your customer time to select their Red Box Diamond.


Red Box Diamonds come with a pre-paid air bill to make returns easy.
Stuller Showcase™
Use Stuller Showcase™ to transform our entire inventory, including our Red Box Diamonds, into your virtual inventory with your logo and markups. In Stuller Showcase, Stuller.com becomes a valuable sales tool.
"All of Stuller's Red Box Diamonds® are laser engraved and come with a good presentation. I find the trade-up policy and the rebate program are important to my business. Over the years I've dealt with other diamond brokers and Stuller is the only one that offers a rebate."
Bill Hrisko, Unforgettable,
A Gallery of Fine Jewelry, LLC
BENEFITS FOR YOUR CUSTOMERS
Individually Selected and Graded


Free Loss Protection


Trade Up Program


Personalized Inscription Service
Engrave any Red Box Diamond purchased with a personal message starting at $25. For details, call Chetta at 800-877-7777, then press 9, 3949#.
---
IMPORTANT DISCLAIMER & LIMITATION OF LIABILITY REGARDING DIAMOND LABORATORY GRADING REPORTS