Charles & Colvard Moissanite® Studs
Find and order best-selling studs quickly and easily. You'll find the most popular setting styles and shapes in Forever One™.
Shop Earrings Shop Rings Shop Neckwear


---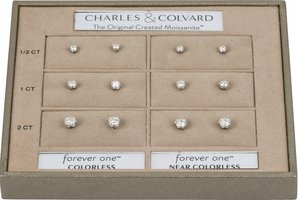 Moissanite Stud Selling System
Moissanite studs are a basic necessity to your business. You need to have a variety of different carat sizes in stock so your customers can see and touch them before making their choice. Our Moissanite Stud Selling System prepares you to meet each customer's needs.
---
*Approximate Diamond Equivalent Weight