Perfecting the gemstone it created 20 years ago, Charles & Colvard's Forever One™ Moissanite is breathless and classic. More brilliant than a diamond, these man-made gemstones are as stunning as they are affordable. Charles & Colvard's Forever One™ is offered in two grades, DEF colorless, and its equally stunning, GHI near-colorless. As the original creator of created moissanite, Charles & Colvard holds its gemstones to the highest standard.
---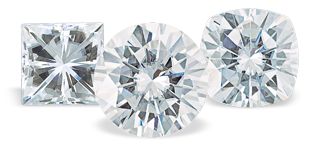 Refractive Index (RI)
2.65–2.69
The double refraction reflects more light back to your eyes so it dances with light.
Fire Dispersion
0.104
2.4x higher than a diamond, bending the light into mesmerizing flashes of radiant fire.
Hardness MOHS Scale
9.25
Excellent toughness and made to last through daily wear.
Forever One is the epitome of created moissanite. It's formed from a specific structural configuration of silicon carbide, ensuring that no matter what Forever One grade you choose, your stone will be more brilliant than any other gemstone.
---
A CUT ABOVE
Carefully and precisely faceted, each Charles & Colvard Created Moissanite® gem is cut according to exact angles and proportions designed to maximize its brilliance, enhance its incredible fire, and reveal its inner beauty.
MORE FOR LESS
Charles & Colvard Created Moissanite® offers beauty and brilliance at a revolutionary value. You don't have to compromise when it comes to moissanite fine jewelry.
DISTINCTLY CHARLES & COLVARD CREATED MOISSANITE®
How to identify moissanite.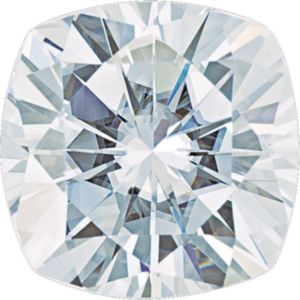 Hover
Double Refraction
View moissanite with a magnifying loupe (10X) through its crown or pavilion. Doubling of the back facet junctions can be seen.
Inclusions
Under magnification, you will see needle-like inclusions perpendicular to the table. All moissanite is eye clean.
Dispersion and Refractive Index
When viewed under a high-intensity light, moissanite has greater fire and brilliance than a diamond, a result of its high refractive index and dispersion.
Testers
Moissanite testers used with a thermal diamond tester can easily distinguish moissanite.
See Recommended Tester