Moissanite Benefits
Colorless and near-colorless options.

Both of our premium brands are available in a range of colorless and near-colorless grades.

Get a bigger stone for less money.

Per carat, customers can get a larger Moissanite at a lower price than Diamonds of the same size.

Durable enough to last a lifetime.

Moissanite ranks highly on the Mohs scale of hardness and easily stands up to everyday wear.

Exceptional sparkle.

Moissanite is doubly refractive, so it reflects more light and bends it into mesmerizing flashes of radiant, rainbow fire.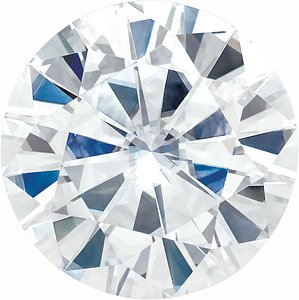 Two Brands
Moissanite is a lab-created gemstone that is as stunning as it is affordable. We have the stone to meet your customers' needs with the two brands we carry.
Stuller Moissanite™
Premium-quality Moissanite that is eye clean, loupe clean, and available in two color grade options: DEF or GH.
Charles & Colvard's Forever One®
Premium-quality Moissanite that is eye clean, loupe clean, and available in GHI near-colorless and DEF colorless grades. A limited lifetime warranty with Charles & Colvard Moissanite.
2.65 - 2.69
Refractive Index (RI)
The double refraction reflects more light back to your eyes, so it dances with light.
0.104
Fire Dispersion
Moissanite has 2.4 times higher dispersion than than a diamond, bending the light into mesmerizing flashes of radiant fire.
9.25
Hardness MOHS Scale
Moissanite exhibits excellent toughness and made to last through daily wear.
Identifying Moissanite
When viewed with a 10X loupe through the crown or pavilion, you'll see doubling of the back facet junctions.
Under magnification, you will see needle-like inclusions perpendicular to the table. All Moissanite is eye clean.
High refractive index and dispersion gives Moissanite greater fire and brilliance than a diamond.
Moissanite is easily distinguished via electrical conductivity testers.View Recommended Testers
Working with Moissanite
Moissanite is a tough material, similar in nature to Sapphire and Ruby.
Please review the proper care in working with it: Bench Jeweler's Guide PDF
Articles
Behold Our Latest Blossom: Rose Cut Moissanite
We present Rose Cut Moissanite as our latest gemstone offering
---
Charles & Colvard pays homage to old world charm with their rose cut moissanite gemstones. Shining a new light on an antique stone, this beautiful bloom bursts with romantic charm...

Read More
Shop The Latest Springtime Moissanite Fine Jewelry Trends
See how moissanite can elevate your style and selection
---
What's not to love about Charles & Colvard Created Moissanite? Each gemstone is cut according to exact angles and proportions to maximize brilliance, enhance its incredible fire, and reveal its inner beauty...

Read More
Here's Why Moissanite Bridal Trends are Surging in Popularity
Discover what draws customers to moissanite engagements in 2018
---
According to Pinterest's 2018 Wedding Trends Report, moissanite is one of the hottest wedding trends. In fact, searches for moissanite gems are up 294% on the social media site...

Read More
Charles & Colvard Presents: Forever One™ Moissanite Melee
Consider these tiny, yet impactful accent stones in your next design
---
We've reviewed the history of moissanite, covered the newest assortment of Forever One™ shapes and sizes and discussed how moissanite appeals to Millennials – a new generation of...

Read More
Charles & Colvard Presents: Moissanite for Millennials
Suggest this special gemstone engagement option to the younger crowd
---
"I've always felt that an engagement ring should reflect the woman and who she is, what she's like. When he proposed and I saw this ring, it meant and said so much. I look at this ring seeing myself and how...

Read More
Charles & Colvard Presents: How to Identify and Screen Moissanite
How to identify created moissanite from near colorless jewels
---
Moissanite is a gorgeous colorless to near-colorless gem grown in a controlled environment, starting from a tiny seed. Hand-cut and polished by master craftsmen, Charles & Colvard's...

Read More
Forever One™ Moissanite Trends: New Shapes and Sizes
Fancy shapes and unique gemstone options are becoming popular among millennials
---
Now that you've had a chance to learn the history and properties of the world's most brilliant gemstone, let's take a look at the latest news about Forever One. With its creation, Charles & Colvard...

Read More
Charles & Colvard Presents: What is Moissanite?
Browse the basics of moissanite, then download a free bench jewelers' guide
---
Moissanite is one of the rarest minerals found in nature. It was discovered in 1893 when a Nobel Prize winning chemist, Dr. Henri Moissan, found crystals in a meteorite crater in Arizona. Moissan...

Read More