Stuller maintains an ongoing environmental consciousness and fair trade awareness in our manufacturing processes and in the lives of all of our associates. We are committed to conducting all operations in the most socially responsible manner possible.
We believe it is our duty to improve the lives of our associates and ensure they are compensated fairly for their labor. By supporting ethical suppliers and every facet of fair trade jewelry, we believe we can make a difference in our communities.
And just as we are committed to bettering the global jewelry industry, we are committed to making our own local community a better place.
U.S. Patriot Act Compliance
All of our suppliers have provided written verification stating their compliance with the U.S. Patriot Act.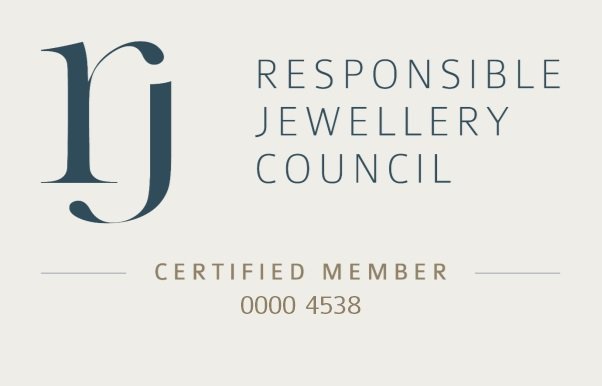 Responsible Jewellery Council (RJC) Certification
RJC is an international body, headquartered in London, that certifies fine jewelry product manufacturers and suppliers for responsible ethical, social, and environmental practices throughout their operations. Certification and membership requires an independent third party audit covering all aspects of operations, from our supply chain and production to business ethics and employee health and safety.
Members must meet RJC's Code of Practices which respects human rights throughout the jewelry supply chain for diamond, gold, and platinum group metals. RJC members commit to implementing continuous improvement processes to increase performance and achieve higher standards.
Learn More
Principled Sourcing
Recognizing the challenges associated with providing precious materials in a responsible manner, we work closely with our suppliers to ensure our jewelry is produced in the most ethical way possible.
Recycled Metals
At Stuller, we are committed to ethical sourcing and environmental sustainability in all aspects of our operations. This includes Stuller's Responsible Sourcing Protocol and using 100% recycled materials in our manufacturing processes.
SCS Global Services Certifications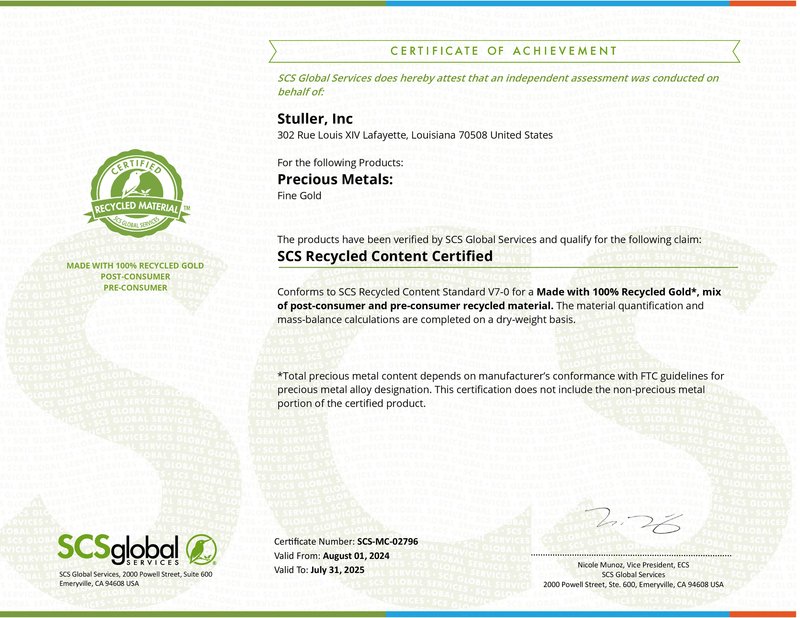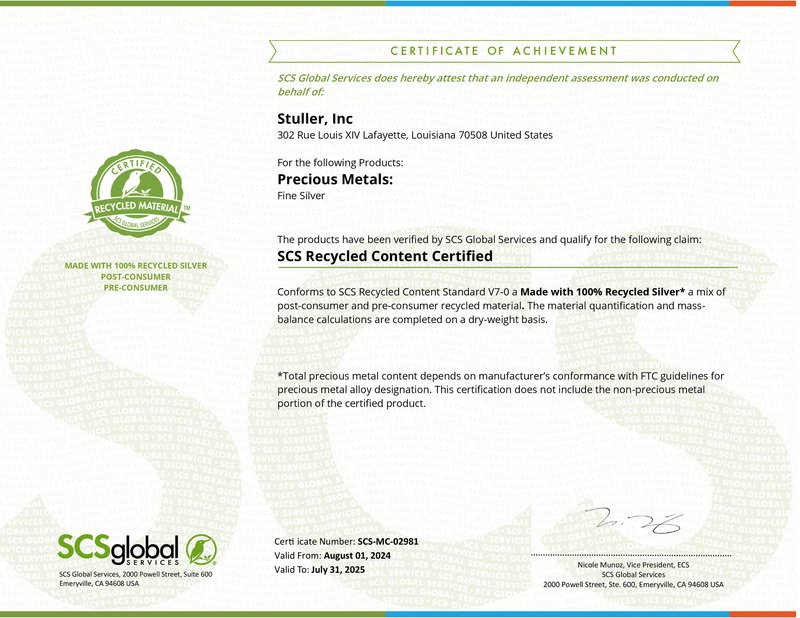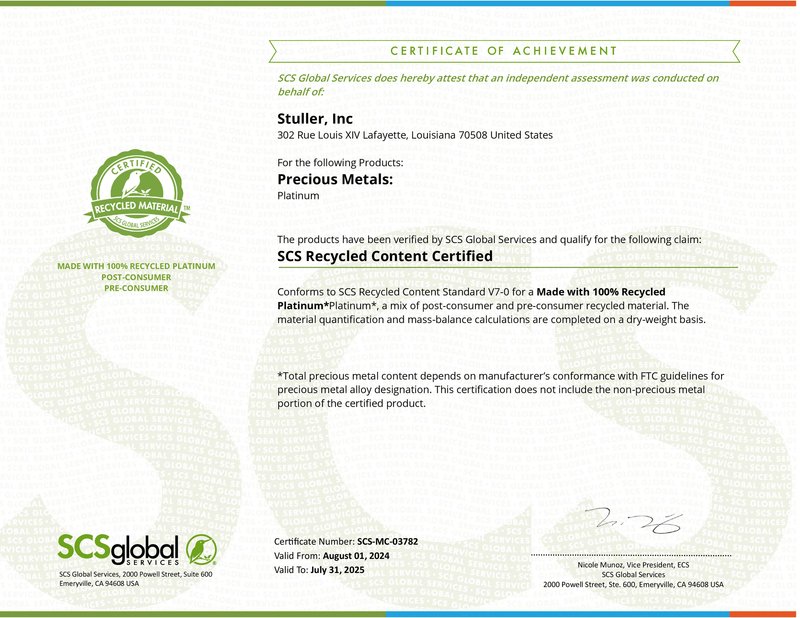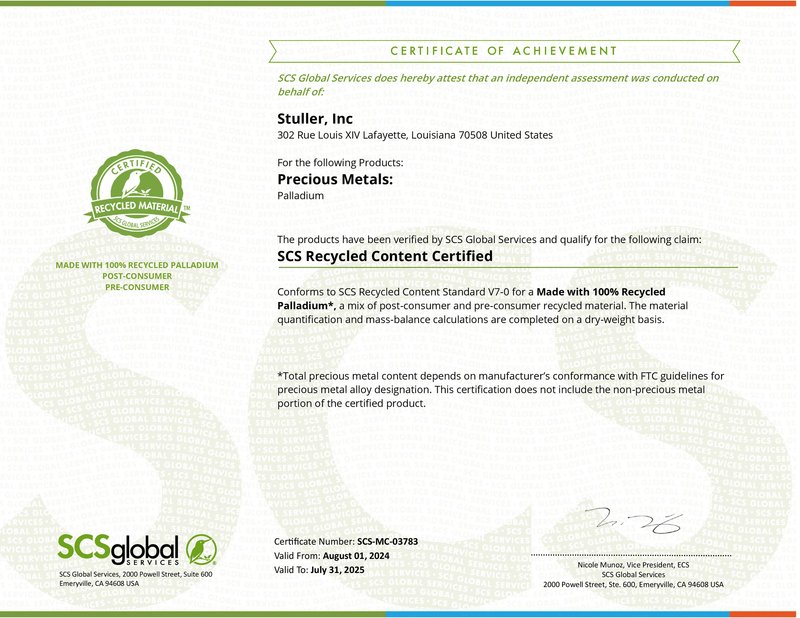 SCS Global Services is an international leader in third-party certification and standards development in environmental and sustainability claims according to global standards. Stuller has received SCS's certification for 100% recycled metals, verifying that when you buy Stuller's manufactured metals—gold, silver, platinum, and palladium products—they have 100% recycled content.
Learn More
Shop Now
New
Responsibly Mined Platinum Grain
Made with responsibly mined platinum from Anglo American
Platinum supplied by Anglo American to Stuller has been supplied in compliance with the London Platinum and Palladium Market (LPPM) Responsible Platinum/Palladium Guidance.
Shop Now
Gemstones
Stuller adheres to strict protocols in regards to the sourcing of both lab-grown and mined gemstones. As a natural resource, gemstones can be found almost anywhere, but they are mined, cut, and exchanged too frequently to easily collect traceable documentation of their exact source.
However, we engage in several practices to ensure the integrity of the gemstones we purchase and believe in creating an open dialogue about gemstone sourcing to be as transparent and trustworthy as possible.
Shop Now
Some of the ethical practices we engage in include
Diamonds
Stuller procures the majority of its diamonds directly from suppliers that manufacture rough diamonds. Most polished diamonds originate from Canada, South Africa, Botswana, and Namibia.
Our membership with the Diamond Manufacturers and Importers Association of America (DMIA) means that we share their commitment to upholding the highest standards for ethics, integrity, and professionalism in the diamond industry. Together, we are committed to boosting consumer confidence in diamonds.
Shop Now
No-Conflict Diamonds
We are committed to selling conflict-free diamonds. We believe it is completely unacceptable to tolerate conflict diamonds and human suffering in any way.
All polished, mined diamonds sold by Stuller comply with the World Diamond Council System of Warranties and the Kimberly Process, which ensures rough diamonds are
Exported and imported with a government-validated certificate stating the diamonds are conflict-free.
Transported between signatory countries in a sealed, tamper-proof container.
Sold with a statement from the seller on all invoices guaranteeing the diamonds sold are conflict-free.
Our vendors are required to sign a Stuller Vendor Code of Conduct, which includes our Responsible Sourcing Protocol and also draws upon international and industry-specific recognized standards in order to advance social responsibility and environmental sustainability. They are also obligated to operate in full compliance with the laws, rules, and regulations imposed by the countries in which they operate.
Diamond Screening
To combat undisclosed lab-grown diamonds, we have implemented a complex screening process to ensure total confidence in both our mined and lab-grown diamonds.
Learn More
---
Industry Associates
Stuller is a proud member of the following:
---
Stuller's Resource Conservation Practices
In addition to our sustainability efforts within the jewelry industry, Stuller is also committed to environmental consciousness at all of its facilities. We do this through:
Water Management
Developing a comprehensive water management plan, which follows the Best Management Practices outlined by the Federal Energy Management Program, our focus when it comes to efficient water management.
Energy Management
Stuller supports national energy efficiency policies such as Energy Star that improve energy usage by continuously establishing, implementing, and supporting effective energy management programs that provide a safe and comfortable work environment for associates.
Waste Management
Stuller reduces, reuses, and recycles waste where possible. We dispose of all hazardous wastes in accordance with the Resource Conservation and Recovery Act and ensure all effluent from the wastewater treatment system complies with local, state, and federal regulations.
Logistics
To achieve excellence, our day-to-day corporate operations demand efficiency, and we continuously seek areas for improvement. We group customer orders to decrease shipments, use recyclable paper instead of plastic, and use low-flow faucets—among many other things.