Stuller Synthetic Diamond Screening & Testing
Buying diamonds from Stuller guarantees confidence, integrity, and quality. As we strive to be the leading and most trustworthy diamond supplier, we screen all our inventory for undisclosed synthetics, applying the newest technology in the industry.
In 2014, Stuller was the one of the first U.S. companies to invest in and install the De Beers Automated Melee Screening Device. Designed to detect all synthetics and simulants, the device verifies the integrity of natural melee diamonds. It loads up to 500 carats of round brilliant cut diamonds at a time, with a testing rate of around 360 stones per hour.
Other instruments routinely used in our screening and testing include the De Beers PhosView™ self-contained screening device, Portable D-Screen Machine from HRD Laboratories, and Presidium® Synthetic Diamond Screener. With this technology, Stuller has created its first ever diamond screening laboratory — a one-of-a-kind center solely focused on ensuring diamond integrity.
Realizing the need for additional technology, we've made major investments to protect our customers from undisclosed lab-grown diamonds.
This year alone, we've added the new and improved AMS2 device, providing an increased processing capacity of 3,600 diamonds per hour, and the MAGI M&A Gemological Instruments, including three advanced spectrometers:
Raman & Photoluminescence
FTIR
UV-Vis-NIR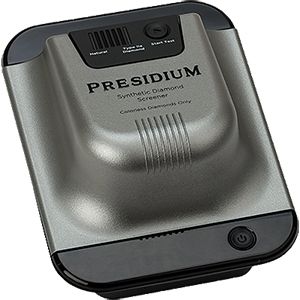 Presidium® Synthetic Diamond Screener
The Synthetic Diamond Screener is developed by Presidium to help screen out Type IIa colorless diamonds, which are likely to be synthetic and created through chemical vapor deposition (CVD) or high pressure high temperature (HPHT) syntheses, from natural Type Ia colorless diamonds.
De Beers' Phosview™ Automated Screening Device
This compact, self-contained screening device is designed to allow parcels of polished stones to be quickly analyzed to determine if they contain potential HPHT synthetics. PhosView can accept colorless or near-colorless loose stones from 0.003 carats to one carat.
Stuller does not tolerate undisclosed synthetic diamonds in our inventory. As added security, we further require our suppliers to screen all diamonds from .20 carats and above for synthetics. Random samples of diamonds from all suppliers are also periodically sent out to leading laboratories to check for synthetics. By incorporating these protocols, Stuller extends confidence and security to our customers, ensuring that you are getting exactly what you purchase.