Canadian Diamonds
With remarkable gem-quality properties and traceable origins, CanadaMark™ diamonds are increasingly in high demand. To help you meet that demand, we offer a wide selection of this trademarked line of diamonds and melee diamonds from the Great White North.
Canada's diamond mines yield a higher ratio of pristine, gem-quality diamonds in comparison to the output of other countries. They are noted for exceptional color, clarity, and luster, as well as low levels of fluorescence.
Every CanadaMark diamond from Stuller is—
Responsibly mined in Canada's Northwest Territories
Natural and untreated
Tracked through audited processes at every stage from country of origin to polished stone
Polished to meet specific quality standards
Guaranteed to come from conflict-free sources
---
Stuller Introduced CanadaMark™ Melee to the U.S.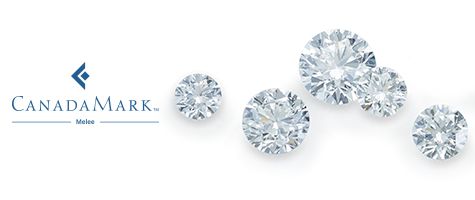 We are proud to be the first carrier of CanadaMark melee diamonds in the U.S. market. Because of their small size CanadaMark's melee diamonds are tracked in parcels, therefore do not carry a certificate or individual inscription.
Available in SI2-SI3, G-H
Sizes ranging from 0.005 to 0.25 Ct
Guaranteed to be conflict free
No enhancements or treatments
---
Canadamark™ Melee: Hearts & Arrows
We have added CanadaMark Melee™ featuring the Hearts & Arrows cut to our CanadaMark selection offering you the highest level of brilliance for your designs.
This new addition to our CanadaMark™ diamonds comes in VS F+, in sizes 0.025 - 0.25CT.
As with all CanadaMark™ Melee, these diamonds are responsibly mined in Canada's Northwest Territories and tracked through audited processes at every stage from origin to polished stones.

---
Red Box Diamonds® Featuring CanadaMark™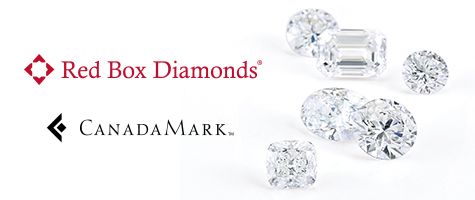 CanadaMark diamonds feature all of the benefits of our Red Box Diamonds. In addition, every one comes with a card detailing—
Evidence of the diamond's origins
Technical characteristics
CanadaMark number
Stone weights
Stuller's Red Box CanadaMark Diamonds are in full compliance with the Canadian Diamond Code of Conduct. And, regardless of size, every CanadaMark diamond also meets specific standards for color, clarity, finish, and symmetry.
Already Have a CanadaMark Red Box Diamond?
Embark on the CanadaMark™ Journey
Ethically sourced diamonds tracked from mine to market
---
Know your audience. Customers are placing more weight on purchasing environmentally conscious diamonds than ever before. Consumers have become well informed buyers who research their purchases...
Read More
Oh Canada! Unique Diamonds from North America
Explore extraordinary diamond mines nestled in the Canadian tundra
---
When you think of Canada, what's the first thing that comes to mind? Would it be snow? Cold weather? Polar bears? I'm willing to bet your first thought wouldn't be about Canada being a major diamond producer...
Read More
Diamonds Cut with Hearts and Arrows
Learn how perfectly angled facets create stunning effects
---
The diamonds team is excited to announce that we have added new products to the CanadaMark Melee™ diamond product line. This Canadian melee are tracked in parcels because of its small size...

Read More