Chatham Created Gemstones
Chatham is the leading producer of top quality lab-created gemstones. Chatham gemstones are optically, chemically, and physically identical to their mined counterparts.
As the largest distributor of colored gemstones in the U.S., Stuller applies stringent protocols when handling genuine and lab-grown gemstones.
Significant Benefits of Chatham Created Gemstones
As part of the growth process, colors are permanent and never treated.
Chatham Created Gemstones are the only gemstones covered by a lifetime warranty.
Chatham gemstones are a fraction of the price of their mined counterpart.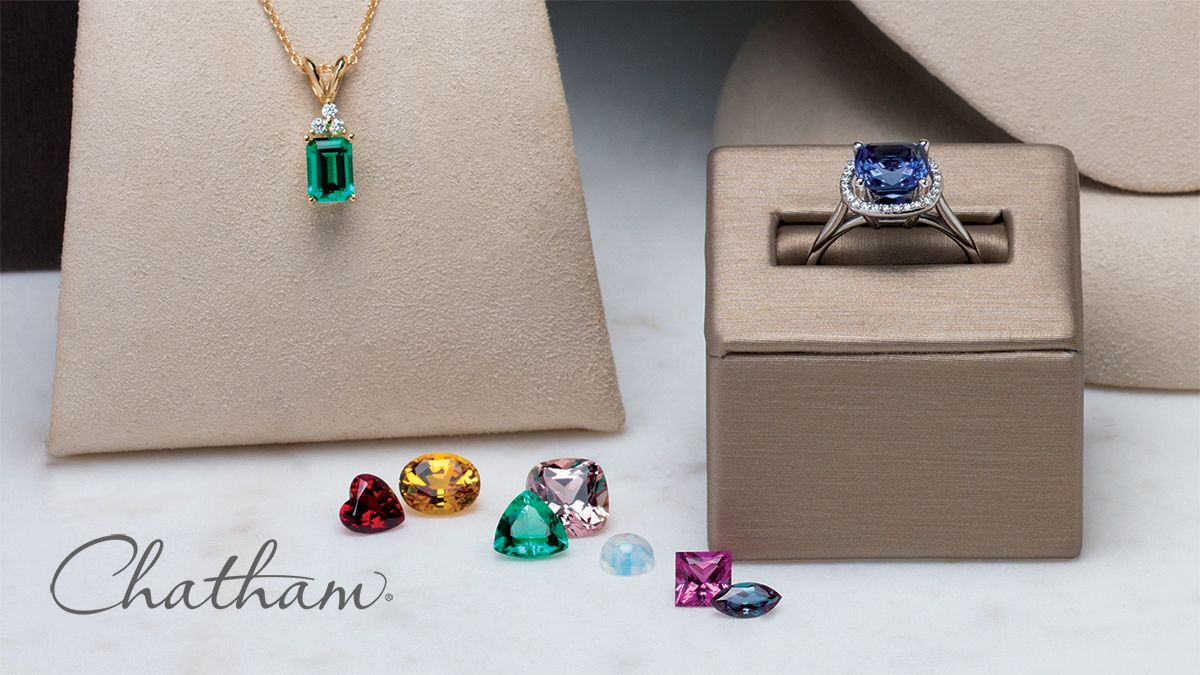 Try on These Spellbinding Chatham Halloween Gemstones
This year, we're pairing bright Chatham gemstones with spooky holiday characters
---
Looking for some ghoulish glamour this Halloween? Look no further than Chatham's colorful lab-grown Halloween gemstones to help you spook and sparkle...
Read More
Pair Chatham Gemstones with Pantone's 2018 Fall/Winter Palette
Brighten the autumn and winter months with this striking seasonal palette
---
This season's new shades — presented by the 2018 Fall/Winter Pantone® Fashion Color Report — unveils a color scheme that is anything but ordinary...
Read More
Chatham Champagne Sapphire: The Birth of a New Color
Chatham explains how their peachy pink sapphires come to life
---
Back in 2011, Chatham introduced Morganite to its list of lab-grown gemstones. The light peachy pink beryl is a highly desired color...
Read More
Chatham – Architects of the Gem Growing Industry
Offering a wide range of created gemstones of the very best cut and color
---
We all took chemistry in high school. And while a small handful of us aced it with flying colors, I think it's safe to say most were just happy...
Read More
All About Chatham Created Gemstones
Learn the process behind growing colored gemstone crystals
---
In this article, we will discuss Chatham's gemstone growing process, the two methods of doing so, and Chatham's standards for gem quality...

Read More
---
From Crystal to Gem
Each crystal selected for jewelry collections is a 1 in 100 selection for color and clarity. Deciding which shape gemstone to cut from these crystals is determined by studying the shape and inclusions of the crystal itself.
Strict standards for proportions, faceting, and polishing ensure that each gemstone has maximum brilliance, vivid color, and high clarity. During the process, 80% of the rough crystal is lost, completing the crystal to Chatham gemstone transformation.

A Lifetime Warranty
Each Chatham created gemstone comes with a lifetime warranty, guaranteeing buyer satisfaction. Here is Chatham's statement of the warranty— Chatham created gemstones are held to the highest standards before leaving the lab. However, should your stone ever chip or break under ordinary circumstances, or in the case of opal, crack or craze, Chatham will gladly repair or replace the item at our option. Normal wear and tear is excluded.