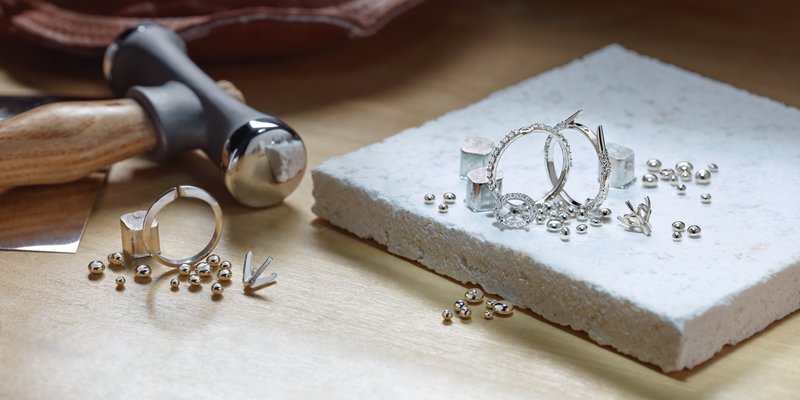 An advantageous addition to the jewelry industry, the use of platinum makes for a unique, exceptionally durable piece to be enjoyed for generations.
Strength, security, shine — the benefits of platinum can elevate any business as a great foundation for building trust with customers. Whether you have worked with platinum before or are just looking to get started, there are a few important points to remember when bringing this metal to your bench. Working with and repairing this metal requires patience and dedication, and it's all in having the right tools, education, and taking precautions.
To keep you confident in offering this valuable, lasting precious metal to customers, let's dive into a list of three aspects to keep in mind as you master working with Platinum: metal education, tools to succeed, and best practices.
Know Your Metal: The Basics of Platinum
Perfect for everyday wear, platinum provides durability, incredible shine, and security for any setting — in its finished state. When working with platinum, the softness of the metal might make it tricky to find the path of least resistance, but it all comes down to identifying your alloy and using it for the right job. Every alloy will have unique properties, advantages, and disadvantages, so basic classification is key. To start, here are the big three: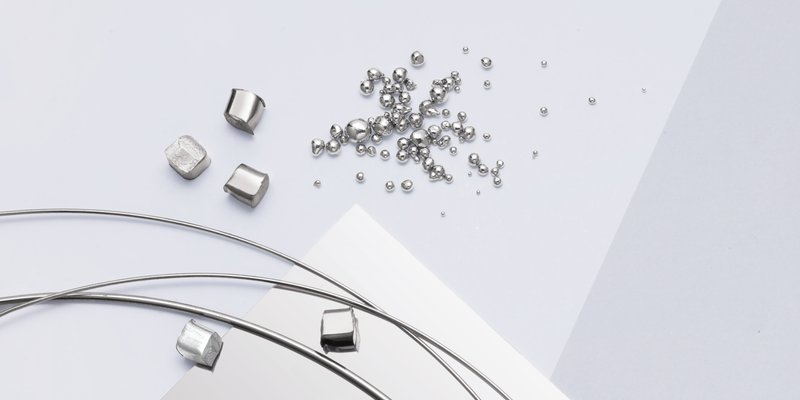 1
Platinum/Ruthenium (Ru)
Stamped as: PLAT or Pt950
As a great, all-purpose alloy, Platinum/Ruthenium will be your best choice for rolling, casting, and fabrication. This is also the main rolling alloy used by our experts here at Stuller.
2
Platinum/Cobalt (Co)
Stamped as: Pt950 (Tip: This alloy will also be slightly magnetic — be sure to check!)
If you're looking for an alloy that will be primarily used for casting, we recommend Platinum/Cobalt. Due to this alloy's fluidity, it will also exhibit less porosity and external shrinkage. Keep in mind that this alloy may oxidize, but any oxidation can be easily removed through polishing. This alloy will also be your hardest choice in casting and should be excellent for intricate work.
3
Platinum/Iridium (Pt/Ir)
Stamped as: Pt900
The softest alloy of the group, Platinum/Iridium is fairly comprehensive with great reflectivity, making it ideal for setting diamonds and gemstones. Although it might take more patience to work with, this alloy is also a more promising option for the jeweler who prefers handwork.
While platinum is softer, you can ensure that it will withstand corrosion and abrasion, keeping its weight for generations to come. Additionally, platinum alloys are 90-95% pure, making it a great option for customers needing a hypoallergenic piece. Rare and distinctively bright, you'll also be able to avoid rhodium plating.
Identifying your alloy and direction is the first step — now, you can head to your bench!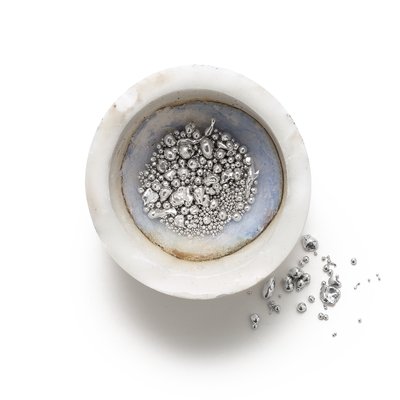 Setting Up Your Bench
As a metal that is a bit tougher to work with, having a set of tools to streamline and optimize your processes will help you to create trusted techniques.
Whether you prefer handwork or machinery, our experts highly recommend designating a set that will be primarily, if not solely, used for platinum work and repair. Keeping a separate set of tools will not only benefit quality but will also keep your work safe from traces of carbon, ceramics, or other metals that could contribute to contamination (especially in soldering).
The Essentials
For jewelers who prefer to take a piece to their bench, our experienced bench jewelers recommend the following tools to stay prepared for each step in creating, repairing, or sizing a platinum piece: Platinum Tools.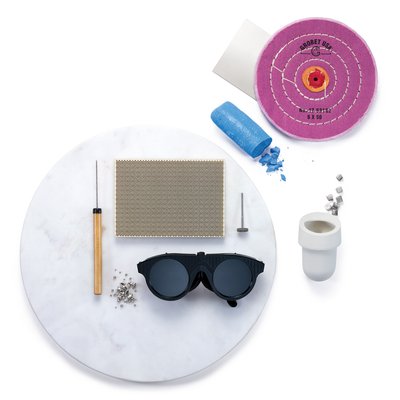 Not sure where to start? To create a solid beginning set that will give your platinum pieces that desirable finish, our team created a Platinum Kit to include a few of our best-selling, recommended premium buffs and compounds.
Remember: safety should always be a priority, especially with platinum. We suggest keeping a pair of Platinum Soldering Goggles on hand to stay protected.
Next-Level Accuracy
Working with platinum pieces that need sizing or repair work can be tedious, requiring time to make sure the job is done efficiently and with a close eye. Consequently, this might make it difficult to ensure quick turnaround times for your customers, especially if the work is primarily being done by hand.
When you consider investing in a laser welder for your shop and business, you ensure improved accuracy and maintain the trust of your customer. Due to its high melting point, platinum jewelry had previously demanded more care when needing to involve torch work, but with a laser welder, concentrated heat provides you with the benefits of increased productivity, capability, and profit. With a guaranteed return on investment and reduced repair times, a laser welder is a great addition to provide precision and quick turnaround when working with platinum.
Not sure which laser welder to choose, or looking to learn more about benefits? Check out our resources to see if this tool is right for you.
To have a handy platinum reference at your bench or workspace, use our downloadable and printable technical sheets to keep specific handling information within reach.

Safety First: Tips on Best Practices
Determining alloy types and building your tool kit are key starting points to begin or improve how you work with platinum, but the most essential part of working with the metal relies on safety and recognizing best practices for a clean job. Failing to take the right precautions with platinum can not only cause you to lose a customer but might harm the chances of regaining their trust or building future relationships as well.
When working with platinum, you can expect to work with extremely high temperatures in nearly all processes that include fabrication, casting, or soldering.
To keep your platinum in its purest state and free from external flaws, it is extremely important to be aware of the dangers of cross-contamination. Working in high temperatures to provide these repairs will put platinum at a melted state, making it vulnerable to contaminants. To avoid this, we recommend taking precautions that will make it easy to keep your metal clean, like having a separate catch tray for scrap, or making sure the piece is clean of oils, dirt, or polish before soldering (and having your platinum tools on hand).
Casting with platinum requires patience, and there are characteristics unique to the metal. For example, it is not recommended to vacuum cast with platinum, but centrifugal machines like our RDO EasyCast 12 Casting System will create a better cast. Be mindful of intricate designs as casting will take a closer eye.
Mastering Your Craft
For many buyers, a piece is more than a purchase — it's an investment and holds sentimental value. As a jeweler, showing your customer the importance of heirloom-quality jewelry is a great starting point, and with platinum, you can offer a piece to be truly treasured for life. Platinum requires care and patience but will allow you to build relationships with customers, proving to them that shared trust starts at the bench.
At Stuller, our experts are always looking for ways to keep you educated, prepared, and confident in any job. We hope that with the right resources, you can start your platinum journey with ease, and explore limitless opportunities for your business.
For more information on platinum, view our resources on how to offer and sell to customers with confidence, as well as previous Bench Jeweler articles that show detailed processes from our experts: