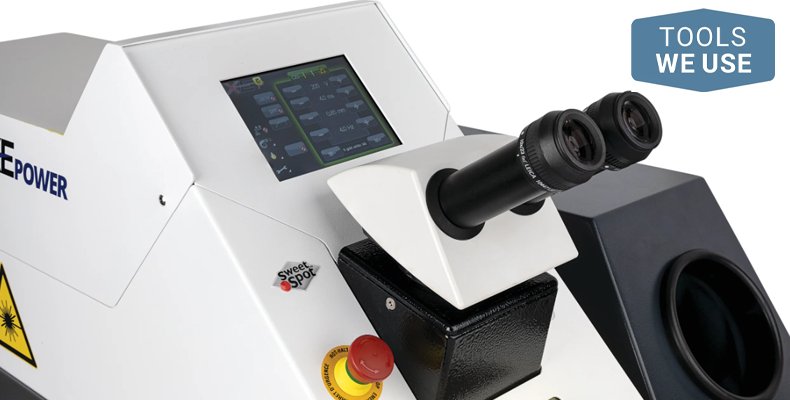 Coming up on the third month of employment, we are taking a look at what our newest laser welder has been up to as a member of the Stuller Team.
If you tuned in to any of our social media accounts during this year's Tools Month, you might remember us saying goodbye and "Happy Retirement!" to one of our dearest employees — our original model of the Coherent-Rofin® Basic XE Power Laser Welder (14-0110:900000:T). After 20 amazing years, up to 51,000 hours, and over one million shots, our laser welder proved to be ready for any job, and with consistent results.
While we were sad to see our beloved team member go, we couldn't help but be excited about new beginnings. With open arms, our Stuller Team welcomed "CoCo Rofin" to the floor! As an incredibly dependable, powerful model from Coherent®-Rofin, we had no doubts that CoCo was the one for the job.
As we reach 90 days with our new employee, we thought we'd check in to make sure CoCo is settling in well. Read on to see what our laser welder has learned and accomplished so far, goals for the future, and a few testimonials from its coworkers.
Getting Started at Stuller
Before diving into CoCo's Stuller experience so far, it might help to have context on what makes laser welders such an incredible investment and addition to any business. For a shop that's looking to have equipment that withstands continuous usage and output, a laser welder offers the convenience of increased productivity and profitability without a need for outsourcing.
Offering years of return on investment with proper maintenance, laser welders are a guaranteed way to make the most of your shop's budget, time, and services — especially with repairs.
Saying farewell to our trusted Coherent-Rofin® Basic XE Power Laser Welder had its own hardships. We were extremely thankful for every re-sizing, prong re-tipping, stone setting, and ring repair job it consistently provided us, and always with the same dependability. However, with this same confidence, we knew that CoCo would bring the same power, ready to work and produce with even more fire!
On the Floor: CoCo's Contributions
For our original facility model, we exceeded a whopping one million shots over a span of 20 years. Running nearly every day for up to 8 hours of usage, there was never an issue. Comparatively, at just over 90 days in the new role, CoCo Rofin has already reached up to 1.12 million shots. At this rate, we expect to see tremendous advancement in the laser welder's ability to produce like we've never seen before, especially topping our previous unit's running employment and service.
Although CoCo's work speaks for itself, we also took proper measures to see what coworkers and experts on the floor might be saying about the new unit. According to one of our most experienced metalsmiths, Troy Guidry, CoCo is raising the bar and boosting bottom lines at incredible speed: "This laser is easy to use, and once the settings are set, it is easy to go to the karat setting you need. For our old one, we had to keep raising the hit points to make a good seal. The new laser has more heat and hits on point."
Another one of our experts, Lilly Campbell, echoes the new praise for CoCo, saying, "It's powerful and always accurate."
With those numbers and testimonials, we see no concerns to report here for this check-in.
Goals For the Future
Stepping up to the plate, we're confident that CoCo Rofin will continue to be one of our most used and highly trusted tools here at Stuller. Built for continuous use and a multitude of jobs, we see this model boosting productivity and efficiency well into the holiday season and beyond. As for goals, we want to make sure that CoCo feels fully supported in its endeavor as the newest addition to the floor among our most loved equipment. To keep CoCo up and running and ready for anything, we entrust our expert specialists and support team, B&D Sales and Service.
A Stuller company, B&D Sales and Service technicians are trained and prepared to keep your laser welder up and running with maintenance, repair, evaluations, and more, giving you the confidence to invest in equipment that'll last for decades to come.
Set For Success with Stuller
As the saying goes, when one air chamber closes, another one opens — in their time with us so far, CoCo Rofin has proved to be a real "standup" addition to our team, and we can't wait to see the incredible progress that's to come. We also want to thank our partners at Coherent®-Rofin for offering powerful laser equipment that stands as an incredible investment to any jewelry business.
Are you looking to invest in your own CoCo Rofin? By partnering with Coherent-Rofin, we are offering an exclusive opportunity to save $1,000* on a Coherent®-Rofin Basic XE-Power Laser Welder. Available only until the end of the year, this promotion applies to a limited number of units, so we encourage you to get started as soon as possible — first come, first served! To learn more, check out our informational web page, and get in contact with our Tools Tech team today. Save today and boost your bottom line by the end of the year with an ensured increase in productivity, precision, and profitability.
As always, Stuller is here for you. Whether you're preparing for the busiest peak of the selling season or jumpstarting your business for the upcoming new year, we promise to keep you prepared and set for success.