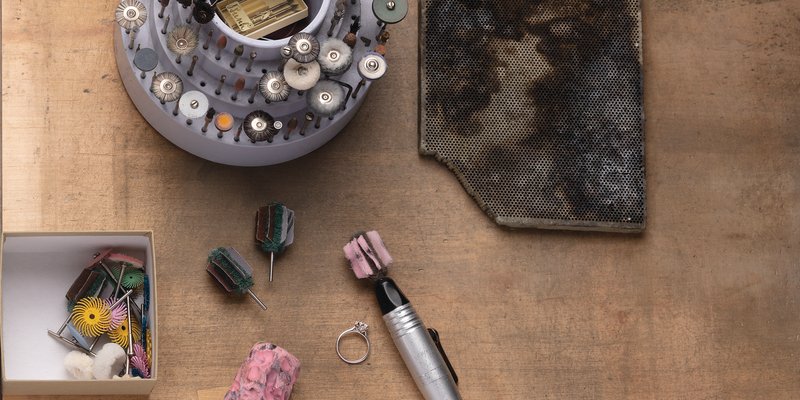 October is days away and that means the holiday selling season will be here before we know it. Last year taught many of us in the jewelry industry that being prepared and getting ahead of any delays is crucial to providing your customers with a swift, quality experience.
At Stuller, we work hard to keep a strong in-stock position on our essential tools and supplies so you can have what you need at a moment's notice. All in-stock items can be shipped with rapid delivery.
With that in mind, we've identified eight essential items to have on hand ahead of the holidays. Shop now and keep your bench prepared.
Buyer's Tip
Keep an eye out for the Tools We Use badge on select items. These are items we stand by and use in our own manufacturing facility every day.
1
Burs
Having a variety of quality burs is crucial to a seamless stone setting process. Our top pick is The Stuller Bur™ — a bur exclusively sold by Stuller and designed for consistency and precision. Explore our selection of burs featured in a range of shapes, sizes, and materials that fit your needs.
Click here to read Three Facts About The Stuller Bur.
2
Drills
Like burs, having a range of drills to suit every need is important as you finish a customer's perfect piece. We offer a variety of drills in different materials and sizes for every purpose imaginable.
3
Abrasives
As you are preparing for a high volume of new pieces, make sure you have abrasive tools that maintain quality while polishing and sanding. Our inventory of abrasive tools includes wheels, rods, shells, sleeves, sheets, pads, sponges, sticks, belts, bands, rolls, and entire abrasive systems. Our abrasives come in silicone, diamond coating, diamond-impregnated stones, and more.
4
Polishing Brushes
Brushes help polish and finish your pieces. Browse through the variety of brushes made with different materials depending on your needs. From fine detail work to working with difficult curves, make sure to keep the right brushes at your bench and in excellent condition.
5
Rhodium Plating
Whether you are finishing engagement rings in a popular white gold or replating a piece ahead of holiday gatherings, having rhodium plating on hand is important. For quick touch ups, consider using the Wizard 6 Volt Disposable Pen Plater (45-4070).
6
Bags and Envelopes
The tools of the trade are not the only thing you should be thinking about. Bags and envelopes help keep jobs organized for you and your customers. They are also great for keeping parts, pieces, and returns together. Organization will help everything run smoother in the coming months.
7
Batteries
Stocking up on batteries ahead of the holidays can be both a sales benefit and a way to ensure your customers' watch purchases come with fresh batteries. Keep a selection of batteries at the front of the store for add-on sales options as well as a stock near your bench for any repair needs that arise. Look at any watches you include in your displays to guarantee they are in peak performance.
8
Safety Supplies
With the increased volume of work that's coming, there's a greater chance for accidents and injuries. Keep yourself and others in your shop safe with safety supplies, such as guards, tape, respirators, gloves, and more. Also, have a first aid kit on hand just in case.
If you're looking for anything ahead of the holiday shopping season or need advice on items to have available at the bench, talk to a member of our Tools Tech Team by calling 800-877-7777, ext. 4300.