Findings and Metals 2018-2019
At 800 pages, it's the largest findings catalog around. A few of the new and improved features includes—
A focus on time-saving products such as semi-set components
High-quality photographs that let you inspect the details
Web addresses listed throughout for easy and direct online ordering
An expanded selection of stampings due to popular demand
Explore this page for useful information about the world of findings.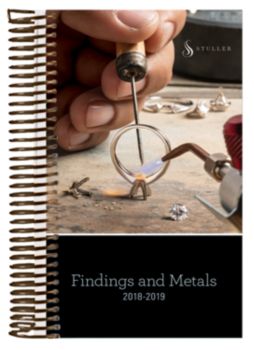 Change-Up Challenge
This year, you are asked to recycle the pages of your Findings and Metals 2016–2017 catalog to craft a representation of a piece of jewelry. The winning entries will receive a Stuller account credit*: first place is worth $750, second place is worth $250, and third place is worth $100.
Enter by emailing us a picture or video of your catalog jewelry creation or via Facebook or Instagram using the hashtags #HowIStuller, #ChangeUpChallenge.
Entries will be accepted beginning Monday, July 24, 2017, and ending Friday, August 18, 2017.
For more information, head over to our Official Rules.
*Must have a Stuller account in good standing to win.
View PDFs of the catalog by category.
Select a category below to shop product featured in our new findings catalog.