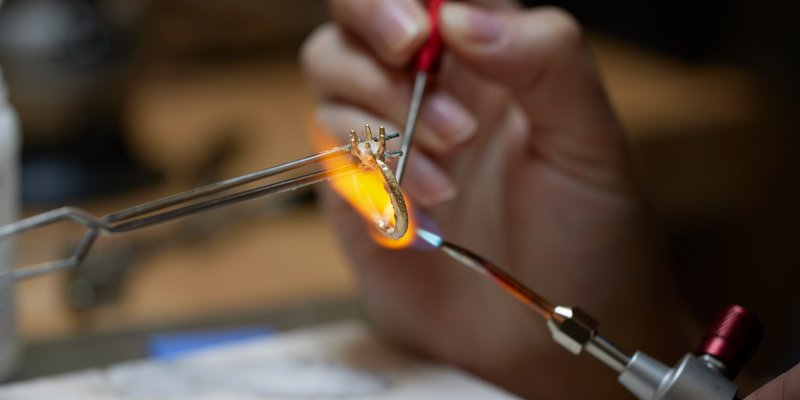 What is it like to attend Stuller's Bench Jeweler Workshop?
The Stuller team was happy to welcome customers back into our global headquarters in Lafayette, Louisiana, on March 31st and April 1st for the annual Bench Jeweler Workshop — the premier educational and networking event for bench jewelers. This event helps connect jewelers with the latest and greatest technology, tools, and experts for an opportunity to grow as professionals. It's also one of the best ways to meet our team and enjoy some good, old-fashioned Cajun culture firsthand.
"It is so stunning to be able to enjoy our customers and see them face-to-face, to be able to shake their hands."
Stuller began hosting Bench Jeweler Workshop in 2000 and has happily brought some of the industry's greatest minds together year after year. If you haven't been, you might be wondering, "What is Bench Jeweler Workshop? What happens there? What makes it so special?"
For those who have attended, you know that Bench Jeweler Workshop is something you must experience to understand. But to get a taste of what that experience is like, let's look at the major highlights from this year's event.
Competing Head-to-Head in Stuller's Battle of the Benches®
One of the primary focal points throughout the weekend while walking around the showroom floor is the Battle of the Benches. This series of mini challenges puts the most skilled bench jewelers and designers to the test as we identify the true master of the bench. Participants compete in challenges for stone setting, computer-aided design, and custom jewelry production. It's always exciting to see experts perform their craft and our live coverage from Battle of the Benches over the two days lets you watch these artists up close.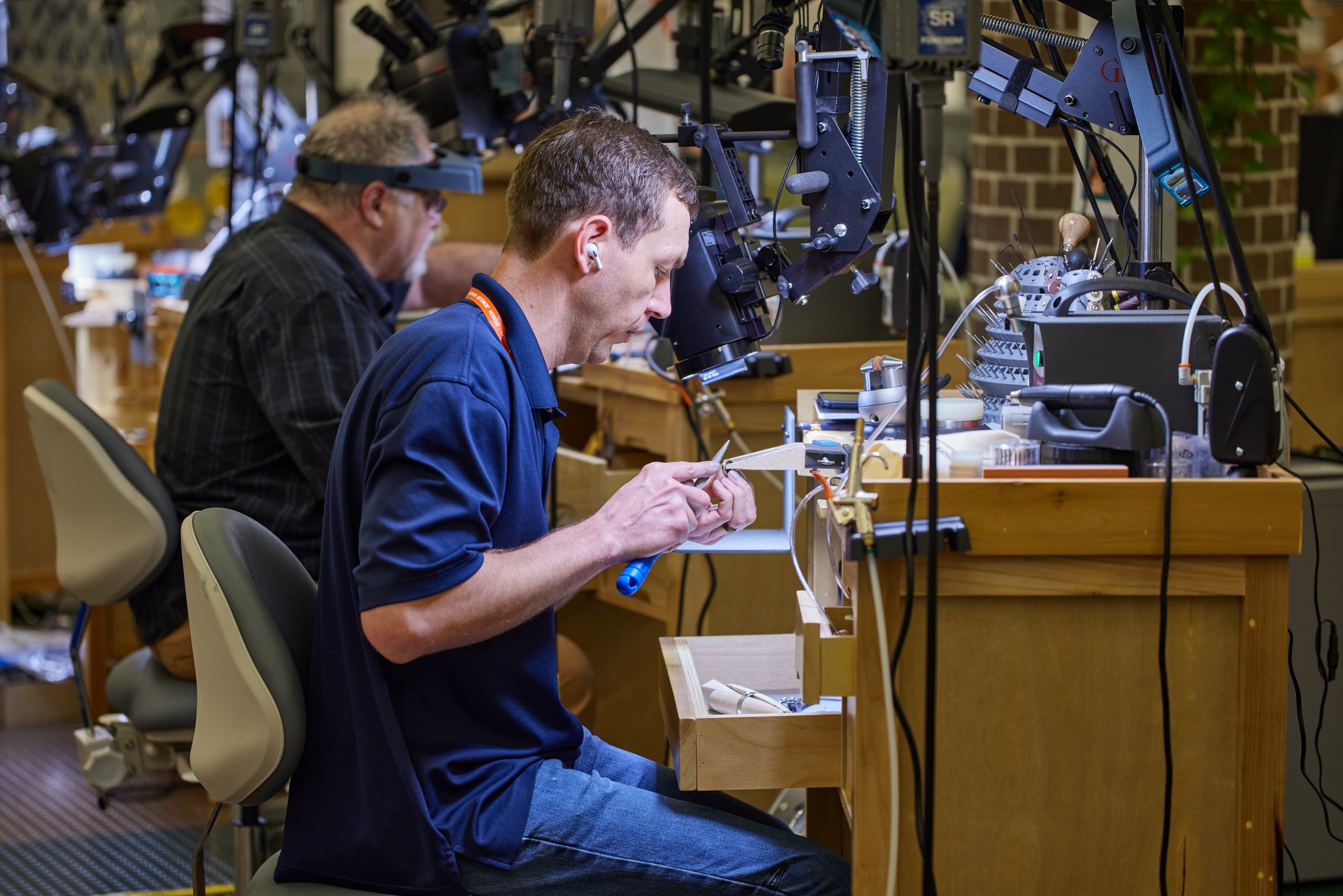 01
Stone Setting
For the stone setting challenge, competitors received a platinum mounting with a marquise-shaped center. The center stone was to be secured with six prongs and the piece featured 30 accent stones. The challenge was to set all stones in the piece within three hours.
Luis Domingues with Reeds Jewelers from Ocala, Florida, won the stone setting challenge.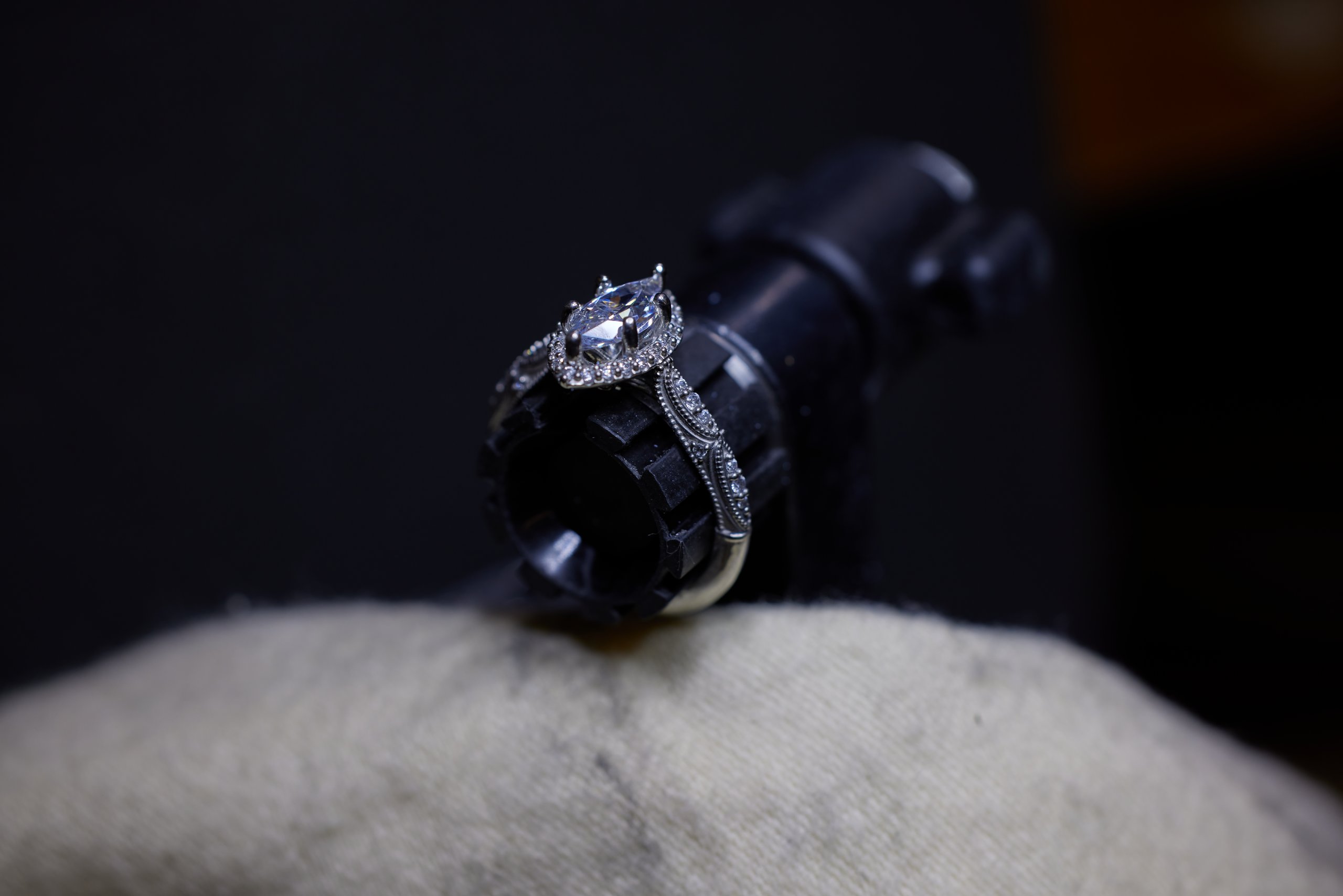 02
CAD
For the CAD challenge, competitors used MatrixGold® to design a rendering of a piece that fit an assigned customer profile.
A fashionista, 34 years old of Turkish-American decent, is looking for a statement piece to wear to a ball with a very prominent guest list. She is a woman on the cutting edge of fashion and design. She loves to travel and see unique architecture around the world. Her favorite travel location is the Mediterranean Sea — but specifically Mykonos and the Greek isles. She has inherited a stone that must be in the design: an oval Tanzanite (12x8). She loves the negative space jewelry look, repeating elements, geometric patterns, or symmetrical designs similar to those of Turkish or Arabic royalty. She loves the contrast between the different metals and is open to all colors or tri-tone. She is not a lady easily impressed by simplicity and opulence is normally the safest route with her.
Those participating in the challenge had three hours to complete their design. They were judged on their adherence to the prompt, the piece's ability to be sold, wearability, and how well the piece printed as a resin sample.
Sierra Herndon with Jamie Turner Designs from Austin, Texas, won the CAD challenge.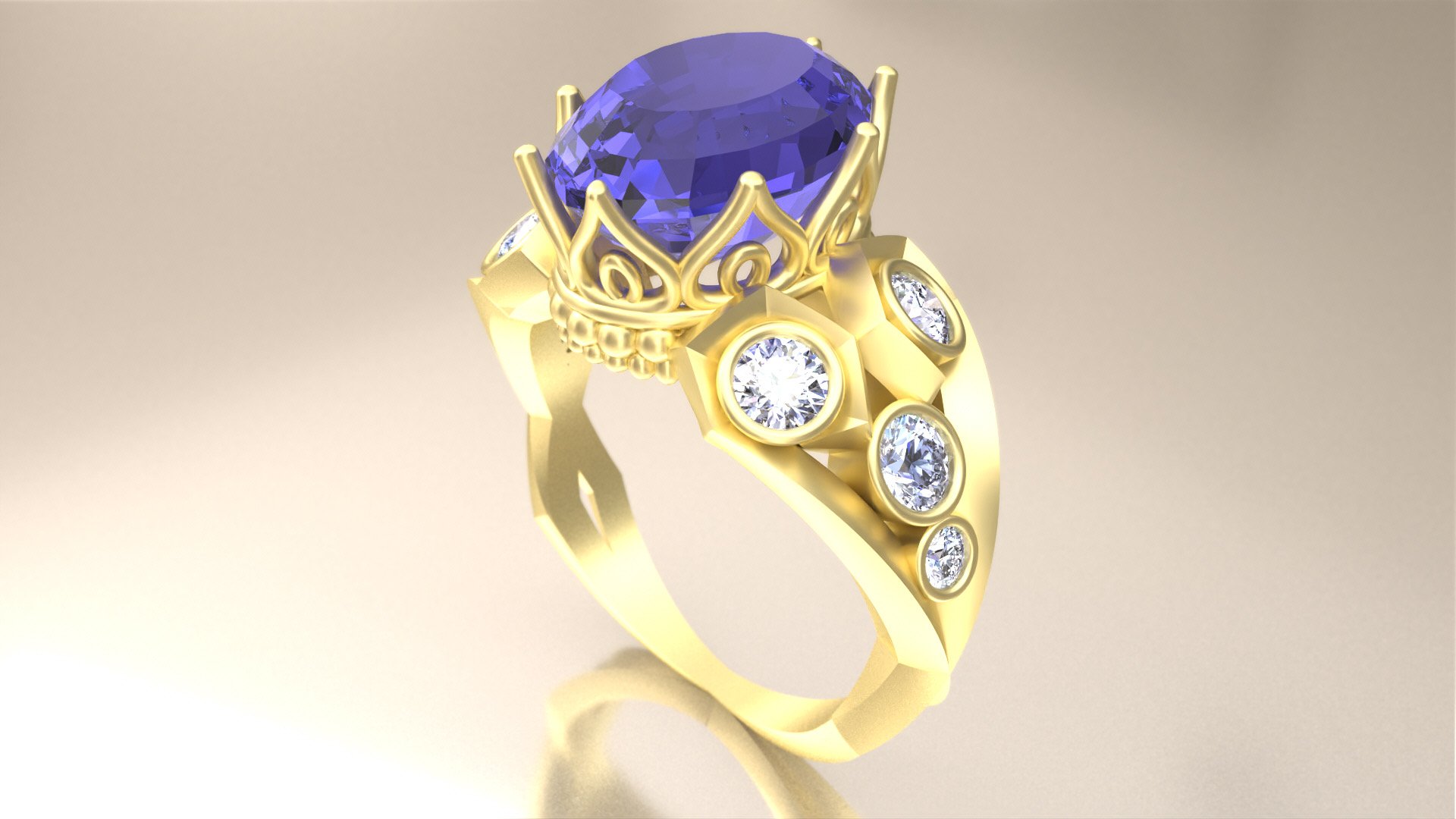 03
Parts & Pieces
For the parts & pieces challenge, competitors were given six hours to create a custom piece of jewelry using a bag of randomly selected components. Participants could also choose to use items in a mystery bag if they chose, but if they wanted to look inside, they had to use at least one item from the bag. They could use any tool at the bench or on the showroom floor to create their piece.
Andrew Schmidt with Clarksville Jewelers from Clarksville, Tennessee, won the parts & pieces challenge.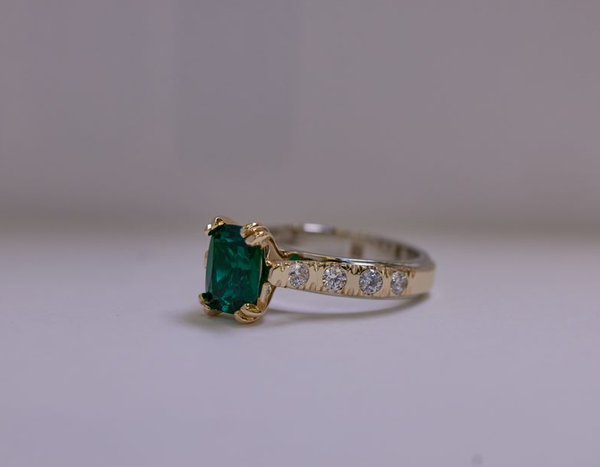 Exploring Sessions and the Showroom Floor
For those not competing in a Battle of the Benches challenge, there was still plenty of things to occupy their time. The showroom floor surrounding the competition stage featured a range of tools, equipment, supplies, diamonds, gemstones, findings, and more. Attendees got to meet with both Stuller team members and vendors to discover the most innovative bench solutions in the industry. They could even try them out for themselves.
When attendees weren't browsing the showroom floor, they were touring Stuller's sizable manufacturing facility, attending sessions on various industry topics, or enjoying conversations with other colleagues.
Committing to Education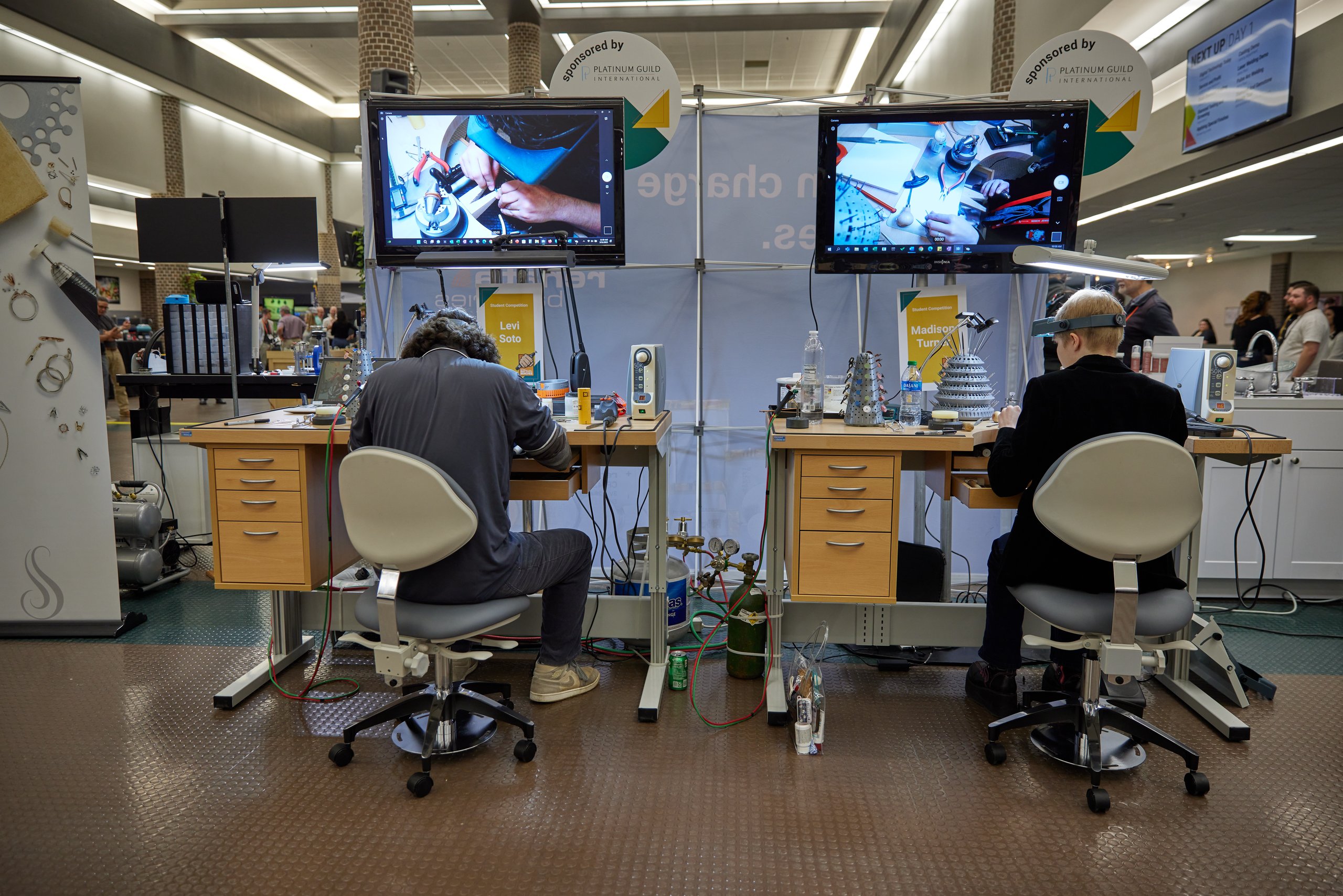 Stuller has a long-standing commitment to nurturing the future of the industry and supporting students in the early stages of their career. We happily welcomed students from jewelry programs around the country — namely the New Approach School for Jewelers, Paris Junior College, and the University of Kansas — to our campus to help further their education. Students participated in a focus group, sessions and demonstrations, and their own head-to-head challenges in stone setting and ring resizing.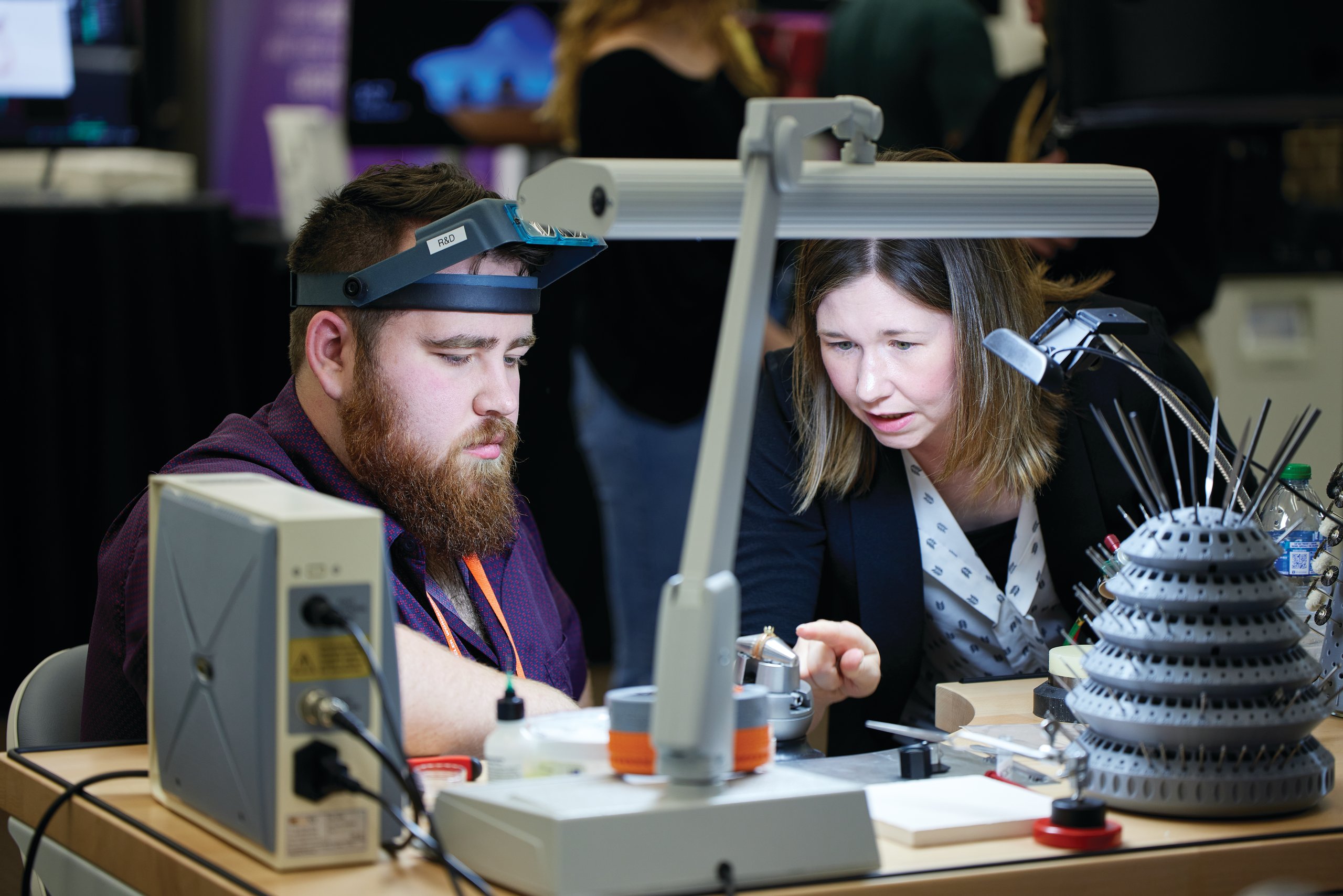 For the stone setting challenge, competitors worked to set a 1 carat round solitaire ring. The one who set with the best quality of all the matchups was named the winner. Bonus points were awarded to students that could meet Stuller's time standards of 21 minutes for our stone setting department. The competition ended in a tie with both Trevor McLaghlin from the New Approach School for Jewelers and Liam Schnell from Paris Junior College as winners.
For the resizing challenge, competitors took the same ring style and had to bring it down a size. Bonus points were awarded to students that could meet Stuller's time standards of 15 minutes for our in-house bench jewelers. Sean Camp from Paris Junior College took home the championship trophy.
"I got my start in coin jewelry. At the time, I didn't have a passion for jewelry. I just saw it as a [hobby]. Then, I realized that this is leading into something really incredible, and it gave me the forward motion to want to be a fine jeweler — not just something on the side, but as a full-time gig."
Enjoying Good, Hometown Fun
After two long days of learning, networking, and competing, we made sure our guests remembered their time in Louisiana with an experience they won't soon forget — trying some Cajun cuisine! From learning how to peel crawfish to trying a Cajun two-step after a bite of comfort food, our guests got a taste of Cajun country that will have them returning soon.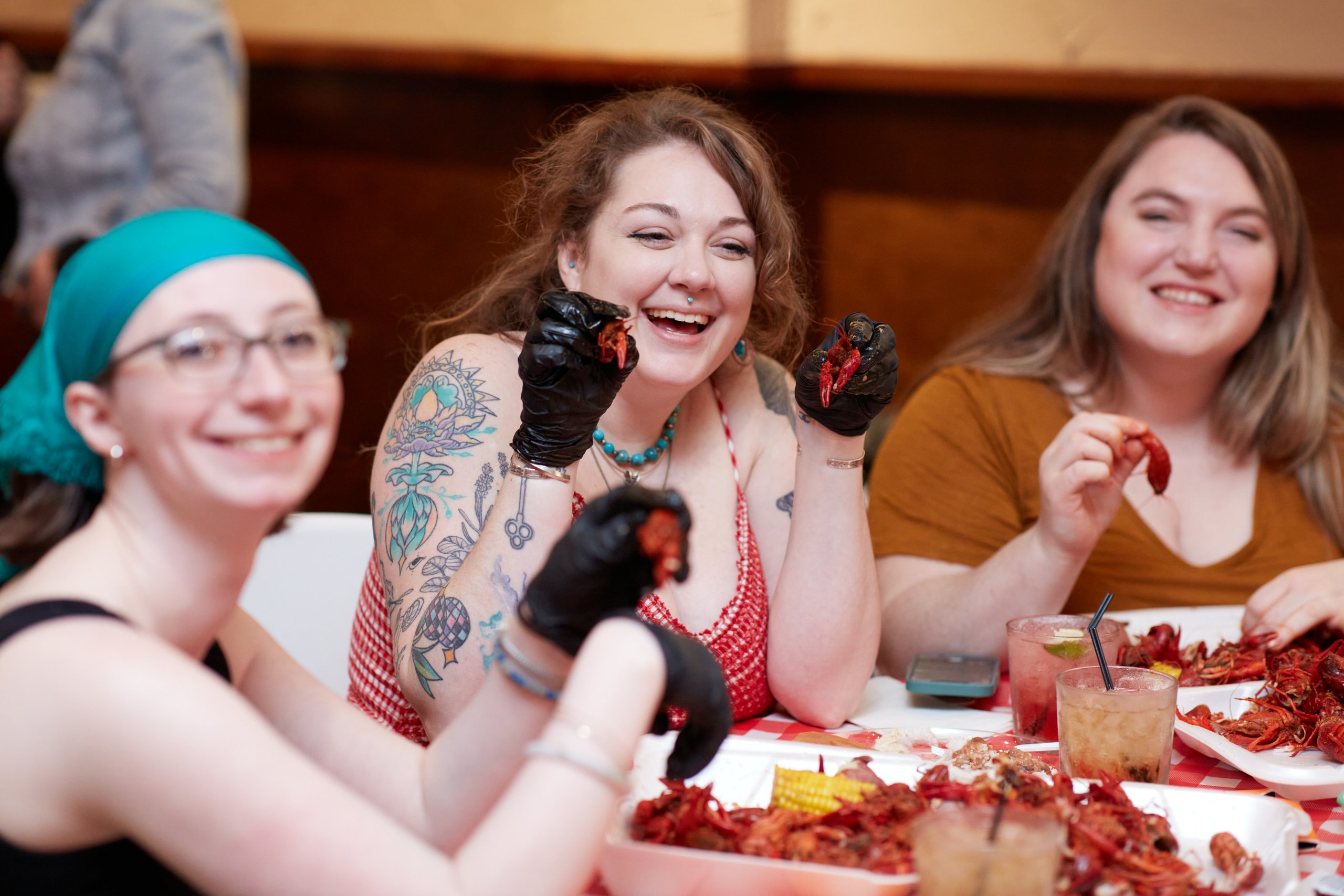 "The relationships we have with our customers are like family relationships. When people come here into the building, it's like a big family reunion."
We love every opportunity we have to spend time with our customers face to face. The future of our industry is very bright and we are happy to be here with you every step of the way.
If you are interested in joining us for a customer event, visit Stuller.com/Events for a list of upcoming opportunities.