Learn how you can save time by incorporating these pre-notched settings.
We understand how important it is to find timesaving products and tools to use that can help improve your business. The perfect example is pre-notched settings!
Not familiar with pre-notched settings? Let's go over what pre-notched means and how it can change your stone setting experience.
Know the Difference
The term "pre-notched" refers to the grooves or "seats" that are cut into prongs so that the girdle of any faceted gemstone or diamond can easily rest inside. Pre-notched settings have these grooves already incorporated into the design, helping jewelers save time. Pre-notched prongs also help ensure the consistent placement of seats every time to assist in keeping the tables of your stones level even working quickly.
A newer trend in the jewelry industry is claw prongs. Stuller is proud to offer many claw prong options. The best part about our claw prong product is that they all come pre-notched. The reason for this is because the prong is longer, and we realize it can be difficult to know where to put your seats. We provide the grooves in the prongs as a marker of where to put your stone to set it evenly and securely with enough prong left on top to form the claws on the stone.
Jewelers can be assured that the pre-notched grooves will securely hold their stones in place, just as if they were to make the seats themselves on their own bench. These pre-notched settings save time and money by letting you skip steps, supplies, and tool wear.
Just like the other products that we sell, these settings are made with the same quality and precision that you have come to expect from Stuller. We have a wide variety of pre-notched items to help speed up the stone setting process for any jewelry items you may need. Check out a few of our pre-notched items below.
| | | | | |
| --- | --- | --- | --- | --- |
| | | | | |
Make the Switch
Let Stuller take some work off your plate by buying from our pre-notched selection of settings. Check out the chart below for a list of our most popular round die-struck settings — both standard and pre-notched.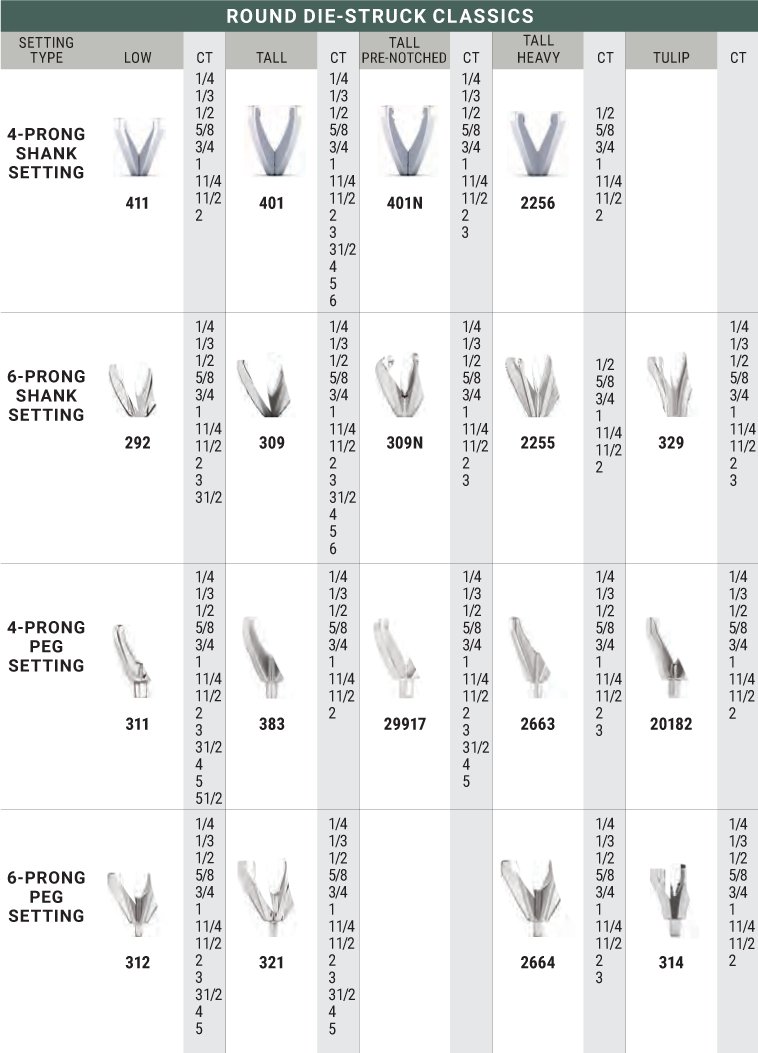 You can find all of our findings selection, including pre-notched settings for ring shanks, earrings, pendants, and more, in our Findings and Metals 2021-2022 catalog.