Top 5 Benefits of a Hydrogen and Oxygen Torch Generator
If you're still on the fence about hydrogen torches, let us set your worries to rest.
Here at Stuller, we are proud to offer a wide array of tools and equipment that we know our customers love. We've partnered with Elettronica Todescato to talk specifically about their hydrogen and oxygen generators that Stuller offers.
The Elettronica Todescato Hydrogen & Oxygen Generators, or mixed gas generators, are state-of-the-art, high-quality equipment designed to precisely solve the user's needs. These systems are incredibly safe, easy to use, and straightforward when it comes to lighting, thanks to a push-pull and shut-off mechanism. Soldering with the power generated by these mixed gas torch systems is a terrific alternative to using pressurized fuel and oxygen tanks in your shop! Check out more key benefits of the ET hydrogen and oxygen torches.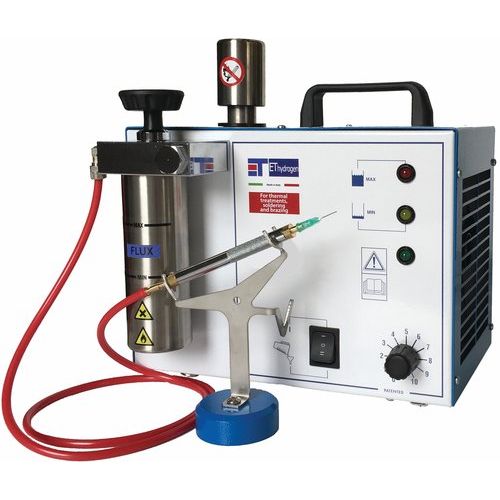 5 Key Benefits of ET Torches
01
No Dangerous Back Flames
Thanks to their safety systems, quality, and certifications, ET torches are one of the safest to use on the market. We're proud to say that our units can consistently keep our users safe while handling the torches. Operators also don't risk burning their eyes with an ET flame. The luminous green flames are not blinding because of the flux liquid.
02
Very Easy to Use and Maintain
Anyone can easily make the standard maintenance of our units. We have developed an easy system with very few components, which means less work during maintenance operations. With the help of video tutorials, all of our customers can perform the yearly maintenance by themselves, potentially without any support.
03
Longer Hours of Operation
Because of our unique system for drying the gas, the operator is not forced to change the flux liquid every two hours. With an ET torch, the flux liquid can last for six to eight hours, even when using the unit at maximum power.
04
Long Life Span
Our units are undoubtedly the most durable, having a life span of ten years or more. This is because we use very high-quality materials when building our units. We often receive requests for assistance of units that are still working after 30 years of usage.
05
An Array of Thermal Treatments
Solder, casting, brazing, welding, and annealing can all be performed with an ET torch. A hydrogen torch can deal with these processes without any problem, and above all, give a significantly better result than other technologies like laser, acetylene, butane, and more.
For more helpful information, please contact Stuller's Tool Tech Team at 800-877-7777 ext. 4300. In addition, Elettronica Todescato offers excellent support through their website. You can also browse the site for technical and practical information about each hydrogen torch, features, benefits, videos, and more.
Be sure to check out Stuller's entire selection of ET hydrogen and oxygen torches and their attachments on Stuller.com.