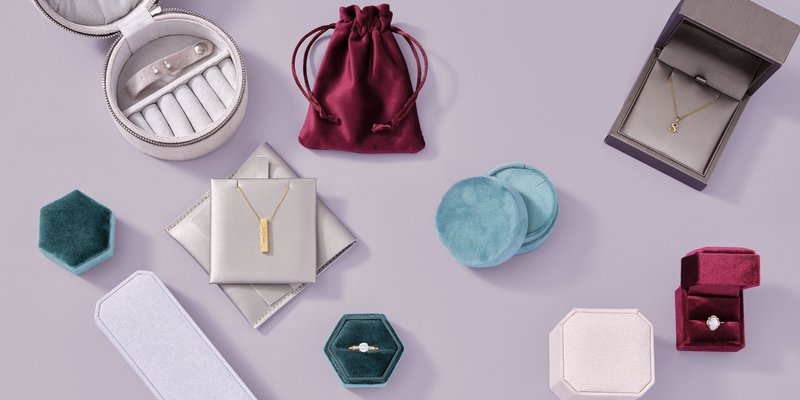 Get insider tips and highlights of what's new in this edition of Packaging & Displays 2022-2023.
We're excited to share with you Stuller's newest catalog, Packaging & Displays 2022-2023. With many new items in complementary colors and finishes, this catalog release makes it easier than ever for you to build your brand, create lasting impressions, and elevate the beauty of your jewelry.
You can view and download digital PDFs of each section of the catalog at Stuller.com/PackagingAndDisplaysCatalog22. Read on below for nine insider tips and highlights on our latest offerings in this edition.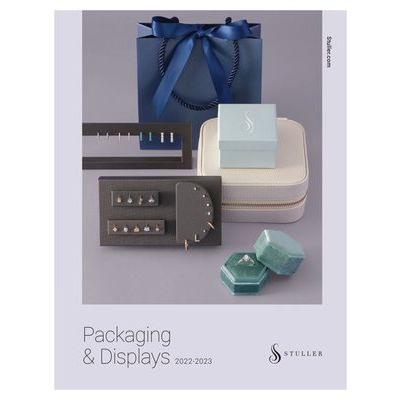 01
Tip #1:
We begin the catalog with our custom imprinting section on pages 4-9, which is essential to keeping your brand top of mind for your customers. Find out how your business logo can be added to boxes, pouches, totes, displays, and jewelry care products. Also, any product or collection throughout the catalog that has a digital or hot foil stamping icon next to it can be custom imprinted. Explore logo templates to incorporate your business name on page 5.
| | |
| --- | --- |
| Hot Foil Stamping Icon | Digital Imprinting Icon |
02
Tip #2:
Case by Case®, our custom jewelry display solution, has its own section on pages 110-131 and includes new images and example colors. These custom jewelry displays come in a variety of styles, colors, and fabrics. This custom experience typically has an eight-week lead time, however, if you have an immediate need, you can view our in-stock displays here.
03
Tip #3:
Check out all our new items! We have more than 250 new items consisting of either new collections or new sizes and colors within current collections. Look for our "NEW" badge showcasing new products, and our NEW label indicating new sizes and colors within existing collections.
04
Tip #4:
To make it easy for you to choose the right color to complement your brand, we list all available colors beneath the item or collection.
05
Tip #5:
Counter pads and mirrors are a must-have for your showcase. Take your brand to the next level by having them custom imprinted.
06
Tip #6:
The perfect box for use in your customer's wedding photos can be found in our new Madison and Eleanor collections — created with every season in mind.
07
Tip #7:
To create a fresh showcase, be sure to view our modular, build-your-own, and new magnetic displays on pages 74-77. They are offered in durable brushed and shimmer leatherette in these three popular colors: moon glow, black, and palladium.
08
Tip #8:
Check out our new pre-assorted diamond and gemstone display sets on page 135. Let your jewels shine in magnetic gem holders and beautiful presentation displays.
09
Tip #9:
Need real roses that are everlasting? Our 24K gold and platinum-trimmed roses are available in more than 40 gorgeous colors including our 12 birth month options on pages 156-161.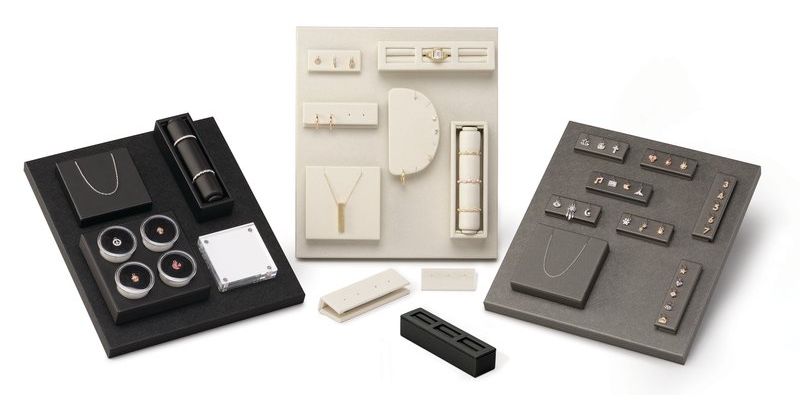 Save The Date To Win 
Be sure to follow us on Facebook and Instagram, and stay tuned in during the week of May 16 – May 20, 2022. Watch our stories for a chance to win prizes such as an imprinted travel case, jewelry cleaner, and more! 
Shop for products and download digital PDFs of each section of the catalog at Stuller.com/PackagingAndDisplaysCatalog22. 
You can rely on Stuller for all of your packaging and display needs from showcase displays to the perfectly branded unboxing experience. Contact us at 800-877-7777 if you need assistance and a member of our team will be happy to help.