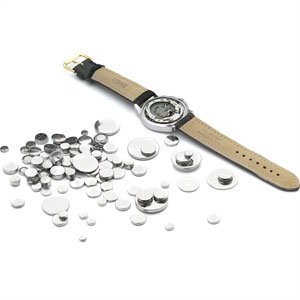 Watch battery replacement is a great way to increase store traffic, generate steady profit between jewelry sales, and ease your way into full-blown jewelry repairs. Many jewelers miss out on thousands each year by not offering full service, causing them to lose out on customer retention and incremental sales. Filling this gap creates a serious profit center for your business. And filling this gap requires only a minimal investment of time and money.
An average-size jewelry store does about 200 watch battery replacements per month. Simple battery replacements typically take less than 15 minutes (leaving customers free to browse your shop while they wait). The average battery costs less than fifty cents, and the average service charge is $7.
Consider this scenario: Your monthly battery cost is under $100, and your repair revenue averages to $1,200 every month. Within a year, you'd make more than $14,400. Realistically, your profits could be much higher, particularly if you're a high-volume shop.
You can make battery replacement even more lucrative by offering a "watch tune up." For $24.95 or more, offer a replacement on the battery, gasket, stem, and crown, polish the crystal, and clean the band and case. Customers will appreciate the extra care, and the slight increase in price won't be a deterrent.
Remember: value is an incentive. What do you do when the store down the road offers the same services but at a lower cost? Provide outstanding customer service. Putting in extra time pays off and ensures you'll remain someone's go-to watch repairer for their lifetime.
A few service tips are all you need to build great relationships:
---
Ensure the battery is dead.
Use a battery analyzer to determine whether the watch needs a repair or battery replacement. Test the battery in front the customer to involve them in the process. Use layperson's terms.
Examine the watch.
Your customer will appreciate the extra care if you notice something before the watch goes to the bench. Inspect the band, crown, crystal, and timepiece as a whole. Are there scratches or worn/missing pieces? Inform the customer—you might score an upsell.
Set the correct time.
This is a simple gesture, but the customer will notice this detail when they go to set the time themselves.
Clean and polish the watch.
Go the extra mile with another complimentary gesture. They'll notice the difference the moment you return the watch.
While all-encompassing full-service repairs may be too much to incorporate tomorrow, a great place to start is with watch battery replacement—today.
---
Battery Replacement Essentials
All the spare parts (200 total) needed for changing batteries. This kit contains battery clamp screws, electronic module screws, battery clamps, insulators, and watch gaskets.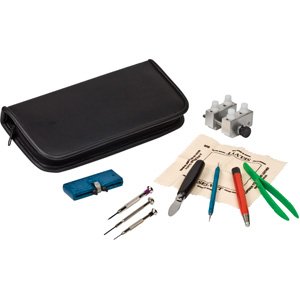 All the tools needed for battery replacement. The convenient, faux-leather pouch has a zipper and elastic bands to secure tools. Shipped with a complete tools list for easy replacement.
Compact tester used to test for dead batteries or mechanical failure—all without opening the watch. Tests low- and high-drain silver oxide batteries, multi-drain watch batteries, and alkaline button cells; and analyzes discharge rate in individual batteries.
Boost battery replacement sales with comprehensive battery kits. Each contains an assortment of watch batteries suitable for 97% of replacement sales, plus other tools to make watch battery replacement easier and profitable.
Available in two kit assortments:
60-drawer cabinet, battery analyzer, cross- reference guide, battery-size chart, store counter sign, training booklet, training video, watch tool kit, and 200 assorted batteries.

60-drawer cabinet, battery analyzer, cross-reference guide, battery-size chart, store counter sign, training booklet, and 130 assorted batteries.
---
Have more questions about batteries? Call our Tools Tech Team at 800-877-7777 ext. 4300.