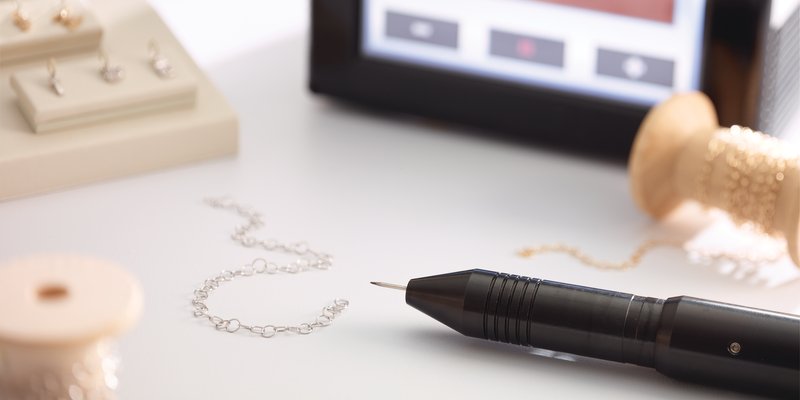 Attract new customers, increase revenue, and get a quick return on your investment.
This hot trend is here to stay, and Stuller has the essential tools you need to get started with your permanent jewelry venture. Inspired by friendship bracelets, chain is secured with a pulse-arc laser welder directly around the wrist, neck, angle, or finger of the wearer. The process is quick, easy, non-invasive, and painless.
There are five simple steps involved in welding permanent bracelets, necklaces, anklets, and rings. Measure the length of chain needed, cut the chain, and place it on your customer. Connect a jump ring and then close it with a pulse-arc welder. Add dangles and links to create unique, personalized jewelry that can be worn — always.
How To Weld Permanent Jewelry
Offering permanent jewelry services can attract new customers to your business, increase revenue, and provide a quick return on your investment. Ready to get started? Let's dive into the tools you need to succeed.
Create Permanent Jewelry with Stuller
Exciting Experiences Await
Whether you are a new designer or have been in the industry for years, offering permanent jewelry services can be a rewarding, exciting experience for you and your customers. Check out our large selection of custom length chain available in yellow gold, white gold, rose gold, platinum, and sterling silver, plus all the permanent jewelry essentials including jump rings, dangles, links, and beautiful displays for your showcase. Visit Stuller.com/PermanentJewelry to learn more.
You are invited to share photos of your permanent jewelry creations using Stuller products. Include #HowIStuller #permanentjewelry #permanentbracelet #jewelrydesign in your social media posts.