Hear about plans for the future of these multi-generational jewelry businesses.
This year brought about the latest edition of the Tools, Equipment, and Metals 2023-2024 catalog — a bench jeweler's greatest resource for providing excellent service for their customers. To celebrate, we brought back our popular #FixMyBench contest, which helps the winners with an investment in their next bench upgrade. Each contestant submitted a wish list of tools for their bench and a picture of their bench space to BenchJeweler.com. The winners were randomly selected.
We are proud to support our customers and share their stories. Meet the winners of this year's contest and hear about their plans for taking their business to the next level.
Michael Hernandez | Jewelry Gallo De Oro
Vallejo, California
Michael Hernandez with Jewelry Gallo De Oro in Vallejo, California, is the first-place winner of the #FixMyBench contest. The grand prize for the contest was a Sunstone™ Orion™ 150s Pulse-Arc Welder, an essential piece of equipment for a growing permanent jewelry business and repair work. The Gallooro family has been in the jewelry business since 1986. They pride themselves on providing top-of-the-line customer service and jewelry designed to fit every personality.
"My father was in the jewelry business for over 40 years. He never upgraded or modernized his bench or tools. My brother and I are the next generation in this business and are looking to take our company to the next level, but before we can do that, we need to make some upgrades and reestablish our foundation. Our tools and bench are our foundation — we have been making it work, but now it is time to modernize."
Congratulations on being the grand prize winner of the #FixMyBench contest, Michael. What are your hopes for the future of your business?
"Our hopes for the future of the business are stability, consistency, and expansion. Over the years, we have been heavily working and fixing the holes in our jewelry business process. Our future for the business is to maximize our resources and become a pillar in the jewelry industry for retailers and wholesalers. Taking our business to the next level would include a bench jeweler in each location that we decide to open."
Cheers to a bright and successful future for your business! How do you believe the pulse-arc welder will help your business grow?
"The pulse-arc welder came at the perfect time when we began to start our new jewelry business operation. In January 2023, we decided to change our business operation by converting our sole proprietorship business to an LLC. We are working hard to innovate and upgrade our entire operations from manufacturing to customer satisfaction. We are in the process of making our mark in the jewelry industry and continue our legacy as second-generation jewelers."
We are excited to see what's to come for Jewelry Gallo De Oro!
Learn more about Jewelry Gallo De Oro on their website or by following them on Instagram and Facebook.
Anthony Venier | Venier Jewelers
Dixon, Illinois
Anthony Venier with Venier Jewelers from Dixon, Illinois is the runner-up of the #FixMyBench contest. Their prize includes a Stuller account credit toward items on their wish list to invest in a bench upgrade. Anthony is a fourth-generation jeweler working alongside his father and grandfather. Anthony's great-grandfather began the family's business with his son after World War 2 following a career as a watch repairman at a local jewelry store. For 79 years, Venier Jewelers has been serving generations of Dixon citizens with their jewelry needs.
"We are in desperate need for an update with our tools and repair area of our shop. Four generations of our family have worked at these benches, and we use them every day."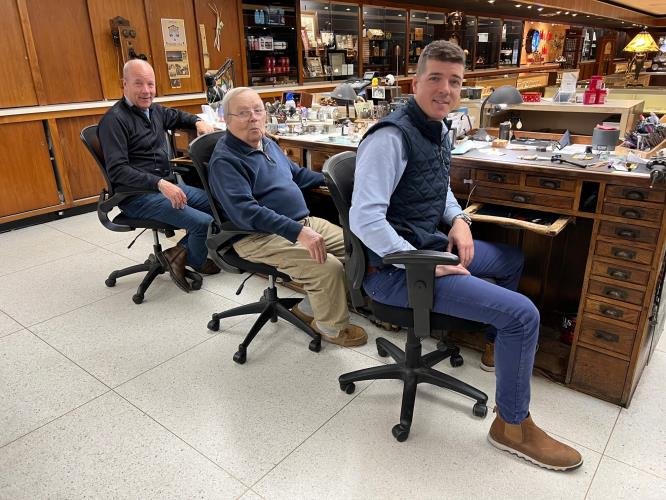 Congratulations on your winning entry in the #FixMyBench contest, Anthony! I love the story of your family's business. With such a meaningful history, what do you think the next stage of growth will be?
"The repair area is open to the floor with no walls, creating a very transparent workspace. Our work benches are the original benches from when the store opened in 1945. Focusing on the repair space will be that next step."
Sounds like an innovative approach to repair in the store. Which wish list items do you hope to invest in for your bench?
"As far as our wish list goes, the Dazor line of desk lamps is an option we are considering. I am in need of a few watch repair upgrades. The Beco® case back press and battery tester are on my personal list along with a new set of watchmaker's screwdrivers and some new wrapping paper for the spring. We appreciate this opportunity from Stuller and look forward to continuing our work together in the future."
We are happy to help Venier Jewelers take this next step in growing their business.
Learn more about Venier Jewelers on their website or by following them on Facebook and Instagram.
Celebrating Our Jewelers
From custom jewelry design to repair services, Stuller is proud to support the industry's talented bench jewelers. Our wide selection of tools, equipment, and metals is curated to address every possible need for today's jeweler. Thank you to everyone that participated in the #FixMyBench contest. We look forward to seeing the accomplishments of every jeweler.