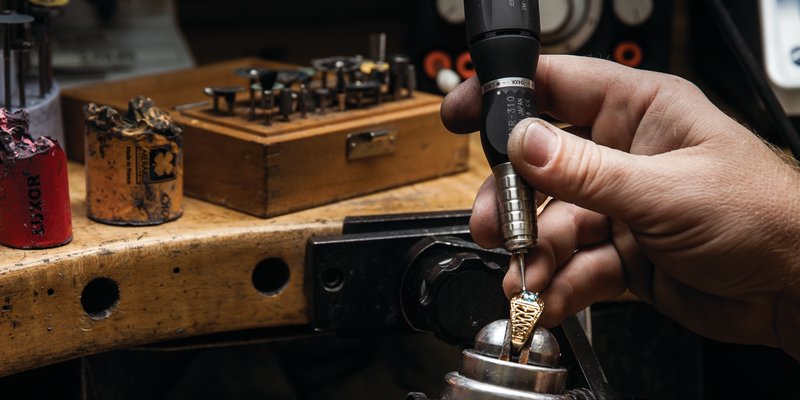 Here are a few essential tools for beginning jewelers.
Here at Stuller, we know that graduation is an exciting time, but it is also a stressful time. Let us take some of this stress away from you by supplying you with everything you need to begin mastering your craft.
Whether you are a new grad or an existing customer with new bright talent, we have a wide range of products that will be able to fit any skill level and budget. We have a comprehensive list of Tools for the Graduate available on our website to begin your journey.
If your dream is to become a master bench jeweler, check out these three must-have items below to help you achieve that goal.
Solid Wood Jeweler's Workbench
The first item here is the Solid Wood Jeweler's Workbench (13-0449). This is a genuine all-wood bench that has everything needed to make jewelry. The pull-out trays and shelves leave plenty of room for storage for your pliers, burs, and any other abrasives or supplies you may need. Another amazing feature are the two arm rests which provide that comfortable feel needed to produce large amounts of products. It is a wonderful start to a long, exciting career!
3-Prong Stone Tweezers 4 ¾"
Another item that will help a new grad feel like a pro is the 3-Prong Stone Tweezers 4 ¾" (57-6016). Making sure that you have a nice firm grip on your gemstones and diamonds is vital to your success as a jeweler. The plunger handle opens the jaws of the tweezers to ensure that the stone or diamond is safely grasped and ready to be set. This precision tool will help you to handle your customers' jewels with confidence.
Grobet USA® 1/10hp Motor Kit with Foot Pedal/#30 Handpiece
One tool that is utilized here at Stuller is the Grobet USA® 1/10hp Motor Kit with Foot Pedal/#30 Handpiece (34-2327). This flex shaft with the ball bearing motor runs very smoothly and requires no lubrication. This machine will assist with drilling, cutting, carving, and polishing jewelry, so you will be ready for any request sent from a customer. The foot pedal and easy-change handpiece make it perfect for a personalized work bench.
These items along with the others listed in Tools for the Graduate will be just what you need in order to hit the ground running in your career. Not only do we have the top products in the jewelry industry, but we are dedicated and ready to serve our customers with anything they need throughout their journey. We have a tools tech team that is ready to field any questions or requests you have.
The great thing about shopping for tools here at Stuller is that you do not need an account to purchase tools. You can simply go to Stuller.com and start shopping.
With that being said, creating a Stuller account will help make the shopping experience that much easier. As an account holder, you'll have a one-stop shop with everything you need for years to come!