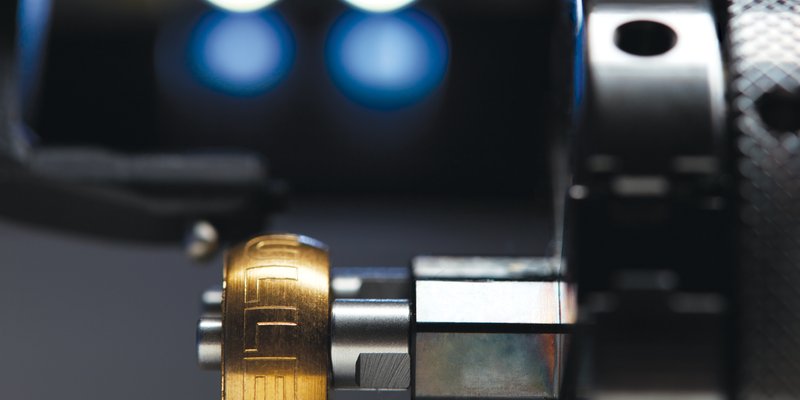 In a world where consumers are looking for something personal and different, customization is the key to helping a jewelry business stand out from the rest. But what does that look like? Sure, a piece that has been uniquely designed for a customer with a hand-picked stone is one direction you can take. However, you can easily get started with customization by adding little details of personalization, even to finished pieces. Let's have a chat about engraving.
What does engraving mean?
In the jewelry industry, engraving is the process of cutting, carving, or inscribing a design into metal. Engravings add a special touch to jewelry; it makes a piece unique to the owner. For example, a couple might want their wedding bands to have a detail making their rings one of a kind. You could engrave their wedding date, coordinates of the location they met, or a short quote on the inside of the shank.
Offering engraving as a service is just another way to create memorable pieces of jewelry your customers will enjoy for years to come.
How do I choose an engraving tool?
Originally, engraving was done by hand. Hand engraving is a specialized skill that takes years to master. Over time, technology has allowed engraving to have a lower barrier to entry and has expanded engraving to a world of possibilities.
Let's take a look at three different types of engravers so you can decide which option is right for your business.
1
Manual Engravers
Manual engravers are the easiest and most affordable way to enter the engraving market. They use metal templates and diamond styluses to engrave. As the name suggests, this tool requires a more hands-on approach. With a comparably attainable price point within the world of jewelry tools, it's an easier investment to make. While the technology involved is older and more limited, you can implement them in your shop quickly because they are easy to use.
Stuller offers options by Grobet USA® that can engrave on flat surfaces, such as nameplates and certain necklace pendants, and even the inside of a ring.
2
Digital Engravers
As the next step up from manual options, digital engravers take away most of the hands-on element to engraving. These engravers use newer technology that requires a bit of a learning curve, but the expanded options are definitely worth it. These engravers can work on flat, curved, and cylindrical surfaces and can incorporate a wide range of fonts. They come with a higher investment, but that can be outweighed by increased efficiency.
Stuller offers digital engravers by Best Built that come with flexible payment options, making it easy to incorporate into your budget.
3
Laser Engravers
Laser engravers utilize the newest technology on the market to help jewelers engrave quickly, consistently, and easily. Let's take a look at the new Best Built L3 series laser engraver's features to understand all the options possible with this type of equipment.
While it comes with the greatest investment of the engraver options, the possibilities are near limitless, and the user interface is very simple. A laser engraver like the Best Built L3 series provides the option to engrave images as well as words. While these machines are designed to be used with metal, they can even be used on other materials, such as ceramics, leather, and plastics. It's even powerful enough to cut through metal, allowing you to create your own nameplates and trims.
Stuller offers the Best Built L3 series laser engraver in watt options that range from 30 watts for light cutting to 100 watts for manufacturing-level production.
Whether you are just entering the world of customization or are looking for another tool to add to your arsenal, engravers are the perfect way to take your business to the next level.
If you have any questions about engravers and which one is right for you, you can talk to a member of our Tools Tech Team by calling 800-877-7777, ext. 4300.