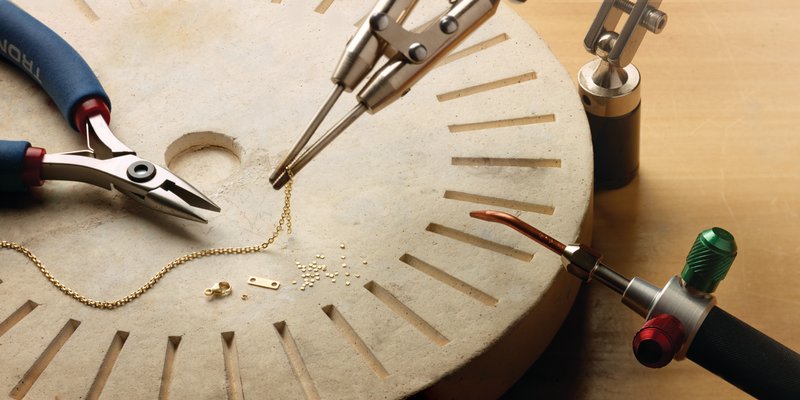 Be ready for any type of chain repair service with trusted products from Stuller.
If you've been thinking about offering chain repair service to your customers, now is the perfect time to do just that. Jewelry repairs in general peak in January with all the post-holiday modifications and enhancements — but chain repair is a year-long business with great potential.
Delivering excellent chain repair can provide you with a new revenue stream and help foster trusted relationships with your customers, leading to repeat business. Increased foot traffic brings increased sales overall with chances to upsell your higher ticket items.
There are many reasons for chain repair such as stretched or broken chains, broken links, jump rings, or clasps. Maybe your customer's chain just can't handle a heavy pendant, or the pendant itself has issues.
Whatever the problem may be, we have the essential chains, components, tools, and supplies you'll need to get the job done right. Here are our team's picks for must-have chain repair items.
Chain and Components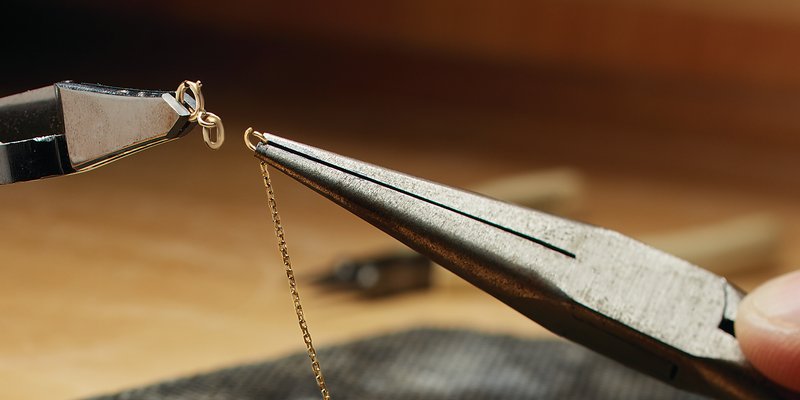 Stuller offers more than 120 styles of custom length chains available in yellow gold, white gold, rose gold, platinum, and sterling silver. Our chain by the inch offering includes anchor, bead, box, cable, curb, figaro, rolo, rope, serpentine, snake, and wheat styles.
Clasps are fasteners used to complete a necklace or bracelet. Stuller offers many clasp types to provide different functions and security as well as the option to incorporate the look into the overall design of the piece of jewelry. Spring rings, lobster clasps, and barrel clasps are some of the many styles Stuller has to offer.
Jump rings are an essential finding for creating and repairing jewelry. These components are the core connectors when working with clasp, chain, necklace centers, or pendants. Stuller offers multiple shapes, sizes, gauges, and metal qualities in our jump ring assortment.
Chain extenders are short, removable chains that are used to extend the length of a necklace. Stuller's chain extenders and safety chains come in a wide variety of style and quality options.
Not all chains have openings to connect jump rings though, like box or wheat chains for example, so chain ends are used instead. The pieces are made to be soldered on opposite sides of one's chain then connected by a clasp or chain tag. Stuller's chain ends are offered in two shapes, flat or round, with or without solder.
Chain tags are commonly used to customize one's chain. Whether it be a logo, initials, or something symbolic, chain tags are meant to add personal touches to your jewelry. Stuller's offering comes in all shapes and sizes.
Soldering and Welding Tools & Supplies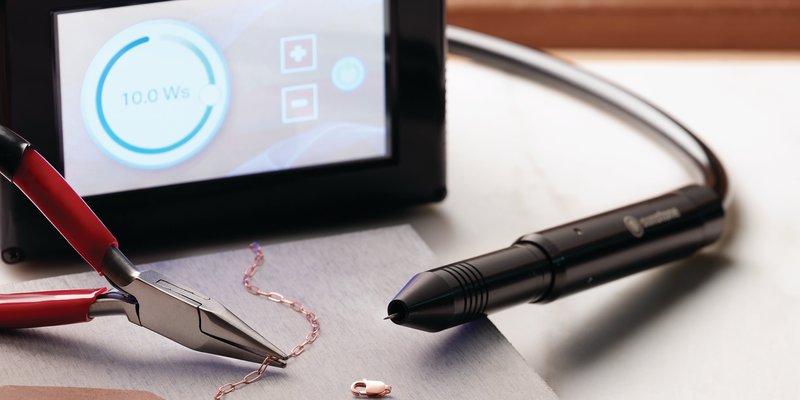 Soldering is joining two pieces of metal with another metal alloy called solder by using heat (a torch) and flux. A small piece of solder is placed on the joint and heated to its flow point, which when cooled, results in a strong bond between the pieces. Stuller offers several different types of solder including sheet, chip, paste, strip, and wire in a range of metal qualities.
Ever wished for a third hand to help you? The GRS® Standard Double Third-Hand Soldering Station makes soldering easy by holding parts in the exact position needed with unequalled flexibility. These third-hands can twist, rotate, and bend in all directions. We offer durable, non-asbestos soldering boards. These convenient soldering station packages help to reduce bench clutter and speed up soldering jobs.
The Sunstone™ Orion™ 150s Pulse Arc Welder is for you — especially if you're getting a lot of repair work that's the majority of your business. This is the ideal precision welding tool that every metalsmith needs. Save time doing simple and complicated work such as butt joints, filling porosity, adding metal, attaching different size pieces, or any other application you may encounter.
Using the Sunstone™ Argon Gas Tank with your Orion™ pulse-arc welder will lead to a significantly better and cleaner weld appearance. Though not required to weld, Argon is highly recommended. Argon also plays an important role in maintaining arc stability, which leads to increased weld penetration and better filler wire transfer. 
Tronex® Short Chain Nose Pliers are designed for high-level performance and comfort. These pliers have specially designed elements such as slightly rounded inner jaw edges, induction-hardened tips that last five to ten times longer, and a bearing ring lap joint for strength and durability.
The Tronex® Mini Oval Razor Flush® Cutter is sharp, sturdy, and precise — perfect for cutting extremely fine wire. It has a unique lap joint design with matched bearing rings, Delrin washer, extra sturdy nut, and fine-pitched screw.
At Stuller, we've got you covered on all things chain. For more information about any of the items mentioned in this article, visit Stuller.com, or call our friendly associates at 1-800-877-7777. To reach our Tools Tech team, please use extension 4300.