Stuller Showcase™ Boosts Your Selling Power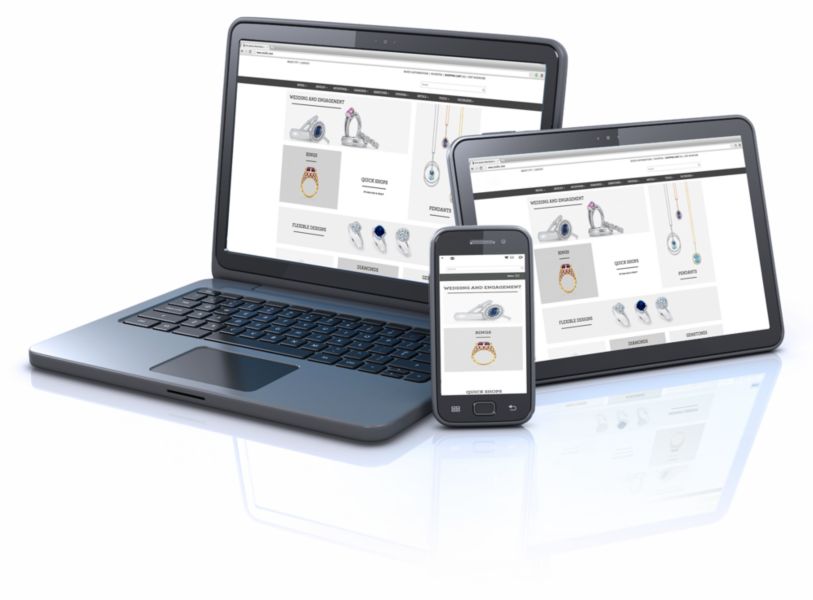 Your free, powerful website solution
Never miss another sale. Use Showcase to deliver a compelling experience that draws your customer into the sales process, deepening their commitment to the purchase. Stuller Showcase™ provides the perfect format to explore our flexible designs and our Quick Shops with your customer by maximizing their engagement with the product and with you.
What our customers are saying:
"We get to set the pricing and when we show the customer items on the screen, it's calculated right there, so no price haggling!"
"Showcase makes us feel that even as a small store, we have a real edge on the competition."
"They know where my price comes from and it gives our store more credibility than just pulling a number out of the air."
Make Stuller Showcase™ yours and yours alone.
Your own unique URL to put on your business card and share with customers.

Your logo, selected theme colors and background.

Your markups — easily and flexibly set them to display your retail prices.

Your choice of categories visible to your customers.

At no cost to you, Stuller Showcase™ delivers —
Live dynamic pricing — no more calculators, no price haggling.

No web maintenance — no overhead costs, no hosting fees, no web development and design fees.

Unlimited inventory constantly updated with new product.
Beautiful, professional images and renders

Quickly filter and find exactly what your customer wants.

Unlike your physical inventory, Stuller Showcase™ will never get stale.

Use Stuller Showcase™ to power sales in your store. Put it on your business cards to share with customers when they leave so they can shop anytime and anywhere. When they add something to your shopping cart, Stuller Showcase™ alerts you by email and gives you the contact info so you can complete the sale.
With Stuller Showcase™ you can:
Customize look with your logo or company name, theme colors and background.
Set your markups by category with flexibility for additional charges and the ability
to round up or designate decimal values.
Example: $.99, $.00, $.05.
Have your own unique URL for business cards and advertising.
Select the categories that you want your customers to see on your Showcase.
Showcase Setup Tutorial