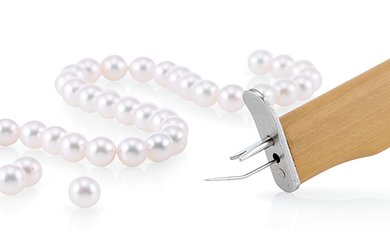 Rely on our team of skilled and experienced knotters to:
String loose pearls and strands into finished necklaces and bracelets within five days
Add clasps and components of your choice
String pearls that you buy from us selected from our extensive inventory - Shop Pearls Now
Offer restringing services to your customers and send the work to us
Here's how it works
To add stringing to an order:
Let one of our friendly sales consultants know you would like this service.
To send in pearls to us:
Send pearls and components along with your contact info to:
SI
·
Attn: Dept. 43
·
302 Rue Louis XIV
·
Lafayette, LA 70508
·
Address Label
Contact us
Press 5 to get answers to your questions.