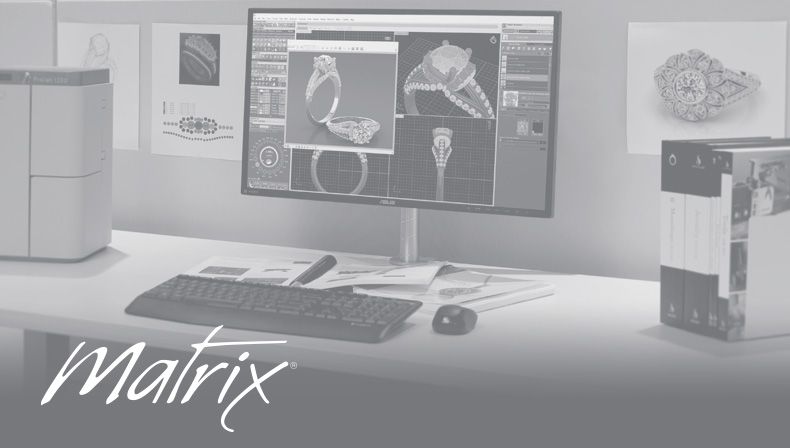 Training Overview
Instructor-led demonstrations guide students in hands-on exercises with abundant click time in the program to become familiar with tools. Educational resources are provided to each student to take home and continue the learning process.
Alexandria Necker Necker's Jewelers, Davenport, IA
MATRIX TRAINING DATES
All training classes are offered at the Stuller headquarters in Lafayette, Louisiana.
| | | |
| --- | --- | --- |
| LEVEL 1: Matrix Essentials | March 18-21 | August 26-29 |
| LEVEL 2: Intermediate Matrix | July 29-30 | |
| LEVEL 2: Intro to Clayoo | July 31-August 1 | |
Why Should I Attend?
Learn
Get hands-on training to operate Matrix software, as well as tips on how to incorporate technology into real selling scenarios.
Meet The Team
Meet the Gemvision technical support team and connect with the CAM services team, who review and prepare your Matrix orders to ensure high-quality production. Tour the Stuller manufacturing plant and headquarters.
Get Inspired
Network with other jewelers and the creators of the software while taking in the great hospitality of South Louisiana. Learn to create jewelry from start to finish, and receive tips and tricks for achieving the look you and your customers desire.
More Ways to Train
Online
Training just got more convenient with Gemvision Online Academy. Learn at your own pace from the comfort of your computer and expand your knowledge while staying up to date on new tools. Yearly membership grants you access to our entire catalog of (CounterSketch®, Matrix®, MatrixGold®, RhinoGold) digital training.
Learn More
One-On-One
Available for an additional fee, one-on-one training is available. These trainings can be hosted at Stuller or a facility provided by the student. Choose the length of training, topics covered, class format and models of interest to create a custom learning experience led by a skilled Gemvision instructor.
Request More Info
Remote
Want to train your staff on-site? Curriculum based training by a Gemvision Instructor can be held at a facility provided by you. All tools needed to conduct the training can be provided by Gemvision.
Request More Info
How Matrix 9 Earns International Acclaim
Mehmet Pekin of Istanbul, Turkey shares how Matrix fuels his career
---
A talented Matrix user, Mehmet Pekin has been using the software for about 13 years. He has built his career around 3D modeling, both as a CAD operator and instructor, all while mastering tools required...
Read More
Matrix Software Makes its Way to the Smithsonian
See how talented jewelry artist Zoltan David creates his museum-worthy designs
---
An accomplished Matrix user and jewelry designer, Sir Zoltan David has built his career around forging innovative, original, and unique jewelry. He holds several industry honors, including...
Read More
Boost Your Business with Gemvision Online Training
Get the most from your Gemvision software without even leaving your store
---
At Gemvision, we're committed to making our software profitable and easy to use. Training provides a crucial component to maximizing your investment. While we offer in-house training...

Read More