What is MatrixGold?
MatrixGold is an innovative 3D CAD software that places complete creative control in
your hands when designing custom jewelry.
Get Started
Frequently Asked Questions
What experience is required to use MatrixGold?
Anyone can get started with MatrixGold and be successful — from the jewelry student just beginning this journey to the seasoned designer looking to take your custom business to the next level. MatrixGold offers tools and solutions to streamline the custom jewelry process, and we provide everything you need on your journey with virtual or in-person training.
How much does MatrixGold cost? Are financing options available?
If you are a first-time MatrixGold software user, the program is a $5,995 investment. For existing Matrix® or RhinoGold users, you have access to a transition price of $2,995. Financing options are available for up to 12 months interest free for qualifying U.S. customers.* Click here to contact us with your questions and interest in financing options.
*
International customers may contact their authorized dealer by
clicking here
to discuss alternative financing options.
What is included in a MatrixGold Membership?
With an active MatrixGold Membership, you have access to the MatrixGold Online Academy, quarterly virtual seminars, 10% off certifications, software upgrades, and exclusive promotions — all benefits ready to support your continued success. You receive the first six months of a MatrixGold Membership complimentary with your initial purchase of the software.
How can finished designs be manufactured?
Bringing your custom designs to life with MatrixGold is a seamless process. Once you complete a project, you can export the file in any 3D file format needed for your preferred manufacturing process. You may also submit your design to Stuller's CAD/CAM Services for an easy manufacturing experience.
Is there additional technology needed to run MatrixGold?
MatrixGold requires a Rhino license, which can be easily added to your MatrixGold purchase at checkout, as well as a compatible operating system. Click here to view system requirements.
Take your jewelry design to the
next level

with MatrixGold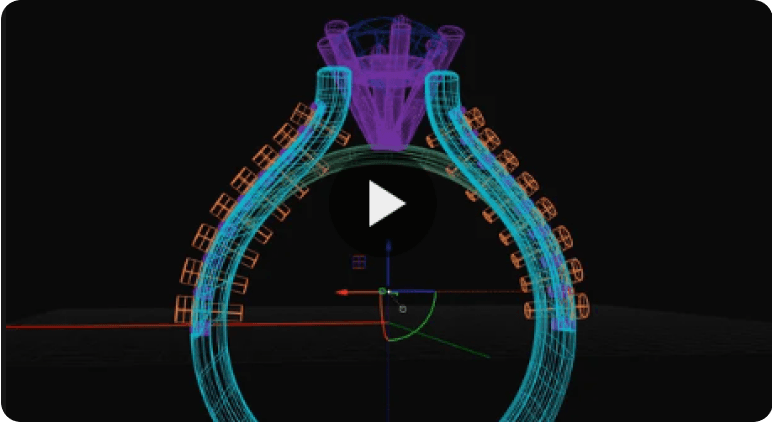 Parametric History
Rebuilding your designs from scratch is a thing of the past. Parametric history is a revolutionary tool that keeps track of all steps in the design process and allows you to make changes at any phase. Redesign or adjust in seconds while keeping your project on track.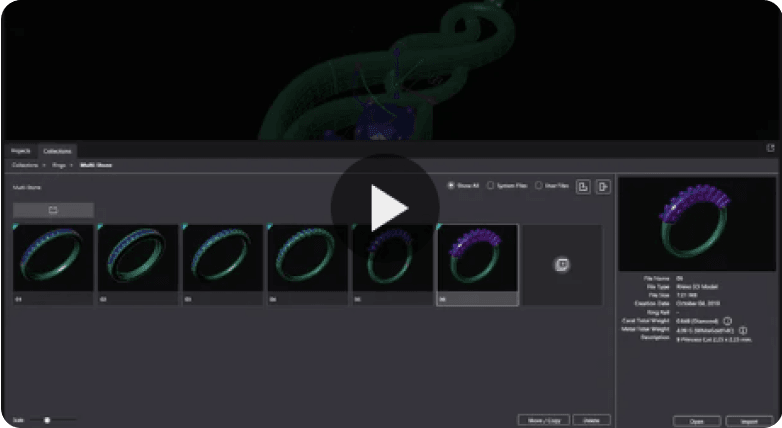 Content Manager
Design from a blank slate or use a library of pre-built parts to give you a starting point. Easily jump into your project with our collections, which gives you a base design you can adjust to suit your customer's needs.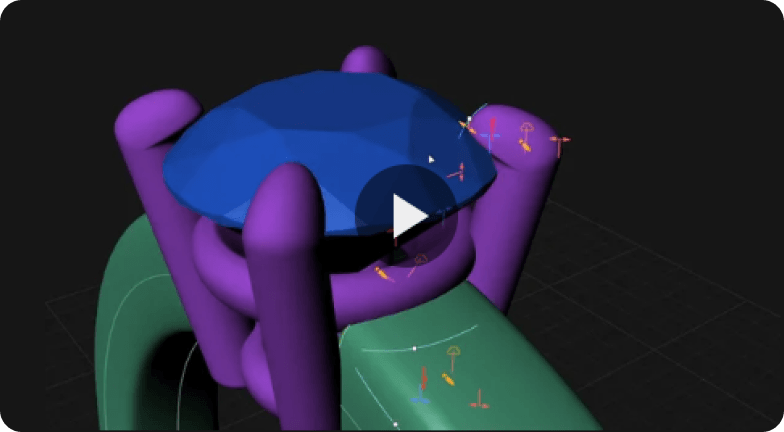 Photo-Realistic Rendering
Help your customers envision their dream jewelry using the Render Studio, which contains a wide range of tools that allow you to achieve photo-realistic images or create a sequence of individual frames using 3D animation.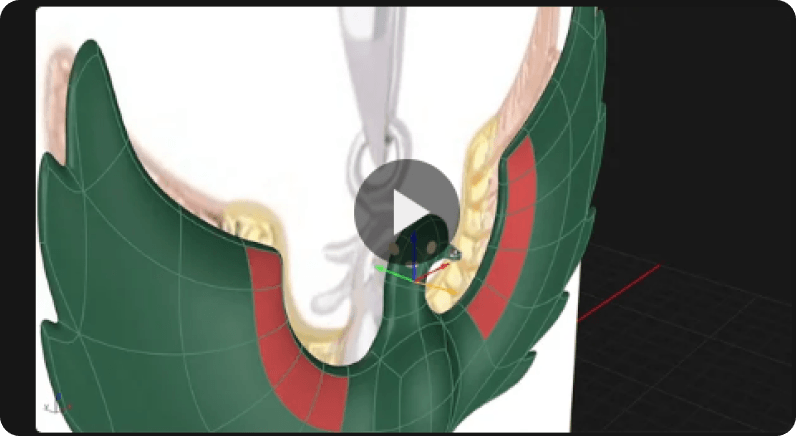 Organic Modeling
Showcase your organic designs with the 3D modeling power of Clayoo, a tool that builds beautifully and uniquely structured custom designs. Animals, flowers, patterns, reliefs, and more are effectively showcased with this feature.
Testimonials
MatrixGold shines as a design tool because it makes it easy to take a vague notion or some scribbles on a piece of paper and turn it into a more coherent view of someone's idea. Keep in mind that when you design in MatrixGold you are building the piece at the same time you are designing it, which can be readily turned into a well-made piece of jewelry.
Ted Curtis, Dragonfly Vintage, LLC
My first impression of MatrixGold was "Wow!" I love the layout, I love how I can customize my desktop, and the new features are going to be fun to work with.
Donna Kovalchick, Esch Metals
I like the MatrixGold user interface a lot. It sizes itself to my monitor, and I can resize designs quickly without starting from the beginning. Plus, the ribbon toolbar lets me effortlessly shift from one set of tools to another. I believe MatrixGold will bring about a new era of jewelry software.
Mehmet Pekin, Piramit Teknik Malzeme
MatrixGold is the most powerful software that's equipped with countless tools and commands for designing innovative jewelry effortlessly.
Tarun Jain
Get Started
Getting Started With MatrixGold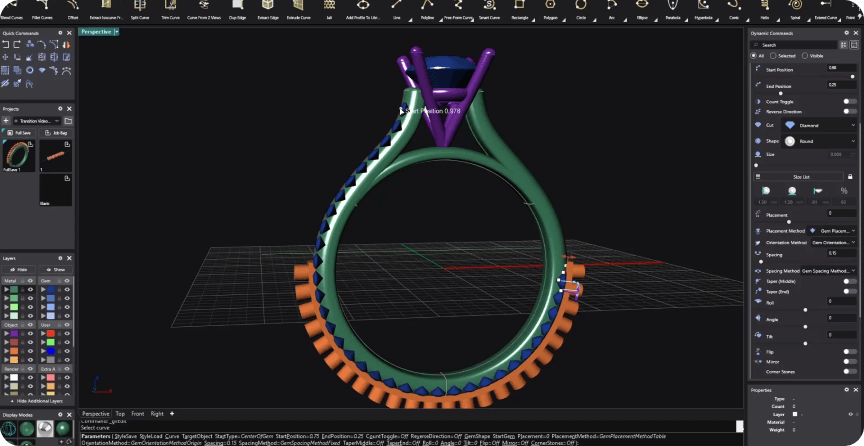 Step One
Discover
See MatrixGold in action. By filling out the form below, you can view a demo of MatrixGold's abilities and other exclusive content.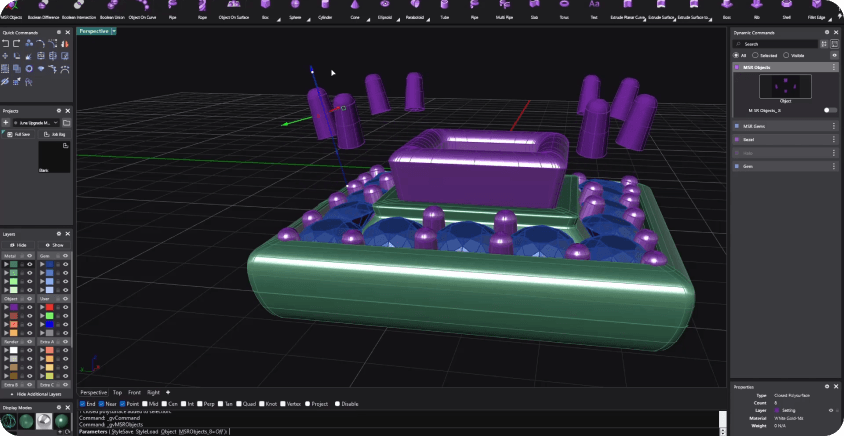 Step Two
Connect
Get one step closer to experiencing MatrixGold's possibilities. Following the demo, chat with a member of our team and see how this powerful software can take your design skills to the next level.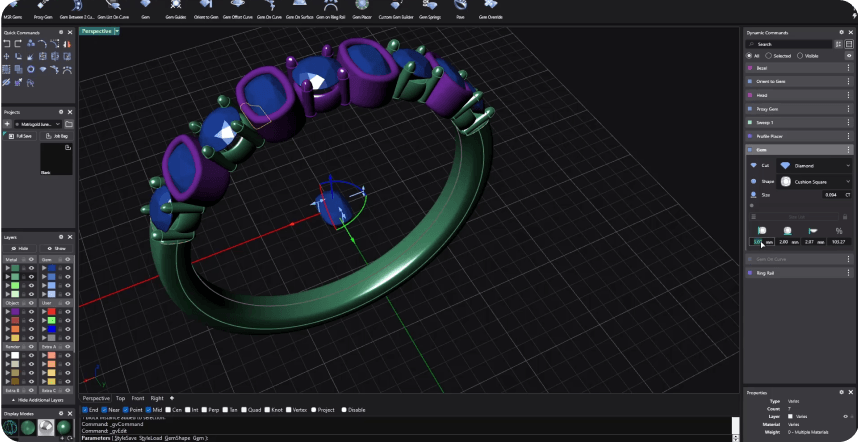 Step Three
Launch
Make the jump with MatrixGold. Secure your purchase of an innovative jewelry design software made to change your business.

Get your FREE video demo now!
15-Minute
Customization
Demo
Need the ultimate customization software? Watch this complimentary video and begin your journey today.