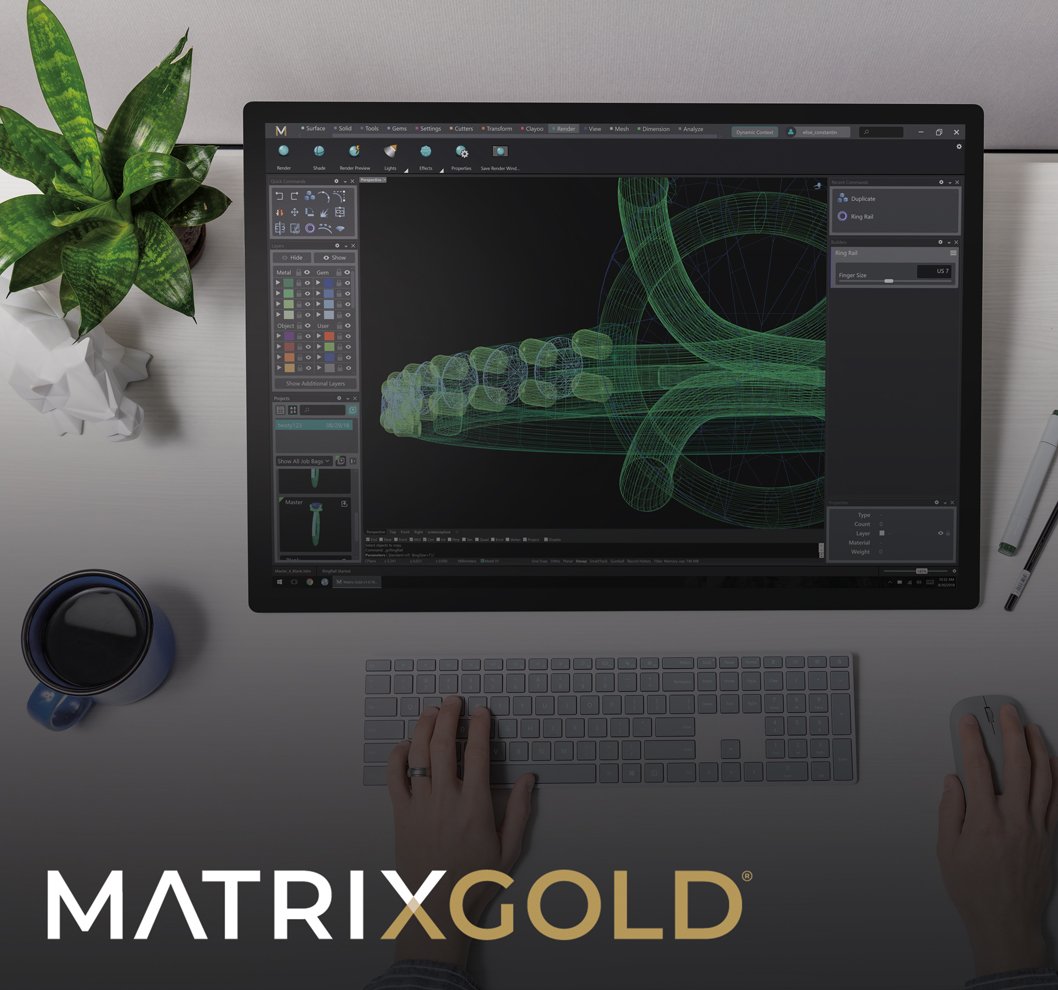 Training Overview
Level 1: Artisan:
This class introduces you to the variety of tools and workflows available in MatrixGold, and explores an array of practical applications of the Dynamic Commands, Parametric History, and an all new render technology.
Level 2: Specialist:
This class will cover intermediate to advanced design techniques and tools. We'll explore hotkeys, expanded parametric history, smartflow, texture 3D, surface modeling, advanced rendering, and animations, and introduce organic modeling with SubD and Clayoo.
COST: $1495 Virtual
COST: $1995 In-person
TRAINING DATES
Please log in to register
Why Should I Attend?
Learn
Get hands-on training to operate MatrixGold software, as well as tips on how to incorporate technology into real selling scenarios.
Meet The Team
Meet the Gemvision technical support team and connect with the CAM services team, who review and prepare your MatrixGold orders to ensure high-quality production. Tour the Stuller manufacturing plant and headquarters.
Get Inspired
Network with other jewelers and the creators of the software while taking in the great hospitality of South Louisiana. Learn to create jewelry from start to finish, and receive tips and tricks for achieving the look you and your customers desire.
More Ways to Train
Online
Training just got more convenient with Gemvision Online Academy. Learn at your own pace from the comfort of your computer and expand your knowledge while staying up to date on new tools. Yearly membership grants you access to our entire catalog of (CounterSketch®, Matrix®, MatrixGold®, RhinoGold) digital training.
Learn More
One-On-One
Available for an additional fee, one-on-one training is available. These trainings can be hosted at Stuller or a facility provided by the student. Choose the length of training, topics covered, class format and models of interest to create a custom learning experience led by a skilled Gemvision instructor.
Request More Info
Remote
Want to train your staff on-site? Curriculum based training by a Gemvision Instructor can be held at a facility provided by you. All tools needed to conduct the training can be provided by Gemvision.
Request More Info