New to MatrixGold® 3:
Gems Placer
This tool improves the placement of stones on any surface, mesh, and polysurface. With this improved version of Gems on Surface, you can place the stones on any surface; and with keyboard shortcuts, you can scale, rotate, move on the Z-axis, and select symmetry. The new functionality also helps you to avoid gem overlapping.
Custom Gem Builder
With the Custom Gem Builder, you can create a gem from any closed curve you have in the document. The user controls the facets, table height, crown height, crown angle, girdle thickness, pavillion amount, and culet depth.
Pull to Rail
This tool allows you to flex an object, such as a bezel or head to the ring rail.
MSR on Gems
This tool allows you to transform a gem using viewport control handles to move, scale, and rotate. It can also modify multiple gems simultaneously. Each gem moves according to the direction it´s facing.
MSR On Objects
This tool allows you to transform an object using viewport control handles to move, scale and rotate. It also can modify multiple objects simultaneously. Each object moves according to the direction it is facing.
Advanced Signet Ring
This tool allows you to choose between an automatic mode or manual mode. The automatic mode allows you to design a signet ring in just a few clicks, while in the manual mode, the user will have the option to edit the profiles curves from the Profile Editor.
Proxy Gem
This tool allows you to edit many gems using a single base gem as a control.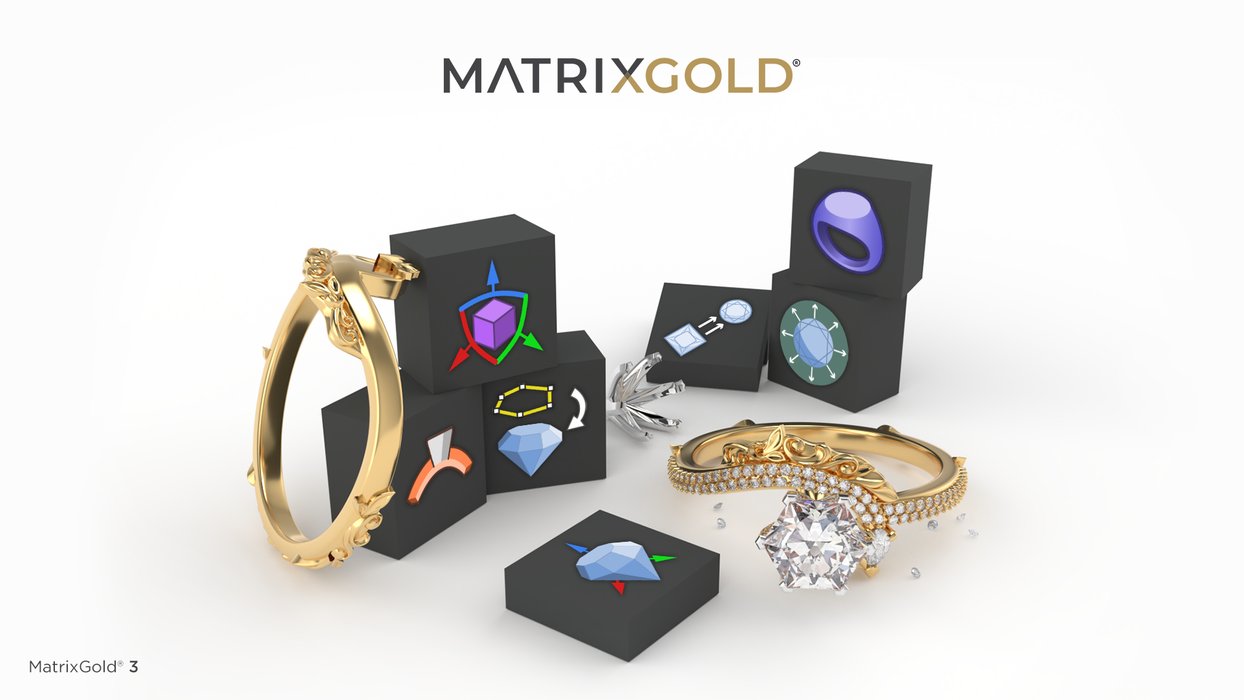 What is MatrixGold®?
MatrixGold®is our newest, most powerful CAD software to date, and it brings a wealth of fresh features and benefits. If you're an ambitious designer who wants total creative exploration to build jewelry from a blank slate, MatrixGold has the features you need.
Request a Demo
Questions? Call 800-357-6272 or Email Us
Unlimited Design Possibilities
If you're an ambitious designer who wants total creative exploration to build jewelry from a blank slate, MatrixGold has the features you need. MatrixGold offers advanced design power and a considerable productivity boost.
Everything about MatrixGold was designed to make you a more efficient designer and unleash your full customization potential: the upgraded CAD engine, the improved speed and responsiveness, the new content organization — everything.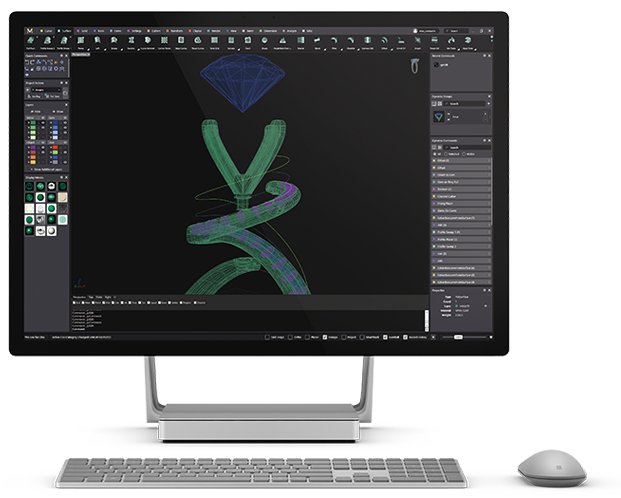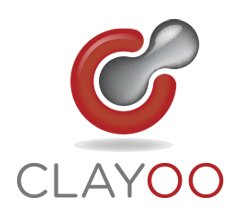 Clayoo
This freeform, organic modeling plug-in provides functions similar to carving and shaping physical clay. Clayoo runs inside MatrixGold.
Learn More
Features
MatrixGold has a modern, clean design, and a simplified interface. All panels are flexible, movable, and dockable.
Parametric History
Parametric history is a way of linking configurations made within MatrixGold commands. When you update configurations and complete a dynamic command, any other dynamic commands in use react and reflect those changes, keeping your design intact. This is a revolutionary improvement over older CAD software. For example, if you need to update your ring size from 5 to 10, you can do it with minimal effort.
Dynamic Transform Tools
Two of the most time-saving Transform tools are those which duplicate geometry for symmetry: Mirror and Polar Array. Mirror reflects geometry relative to the C plane. Polar array duplicates a specified number of objects around an axis. These two tools save designers time by creating child objects based on parent objects, all while keeping parametric history.
Content at Your Fingertips
MatrixGold has libraries of content and saved styles available to be used in any design. There is a built-in Content Manager, including Libraries, Collections, Style Sheets, and Job bags. It's easy to bookmark your favorite parts to a User Collection and plug them into any design using parametric history tools, such as mirror, orient to gem, etc. There is a library of parts to assign to objects. Style Sheets allow you to easily save your favorite dynamic command configurations that can be recalled later for easy reuse.
Editable Booleans and Cutters
Booleans are what is used in CAD software to control the way geometry is subtracted from or added to another piece of geometry. Cutters are what is used in Booleans to make those adjustments. Typically, Booleans are one of the final steps in creating a design, but you can now edit your designs and your Booleans. Before, you would have had to start the whole design from scratch.
Advanced Designs Made Simple
With our new cathedral ring and split shank dynamic commands, creating difficult stylized designs has never been easier. Utilizing these simplified tools, complex concepts are accessible for both novice and power users. There are multiple workflows to reach a final design, giving the designer many different options.
Prefer to purchase by phone or have questions?
Our Gemvision specialists will help you every step of the way.
800-357-6272
563-884-8180