Take a Stand for Your Brand
Consider the moment a customer gives a gift. In those fleeting seconds of powerful emotion and expectation, your packaging is the first thing seen and touched — a precious chance to leave your mark.
Use consistent messaging — a logo or your name in a specific font.
If you have brand colors, great. If not, choose them and use them.
Incorporate your name and colors into customized packaging and displays.
Extend your customer's brand experience by adding your name/logo to cleaning solutions.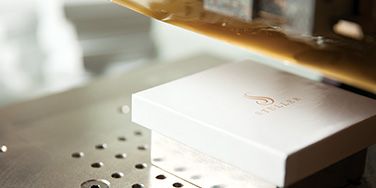 CUSTOM IMPRINTING
Two Ways to Leave your Stamp
Choose hot foil stamping or digital printing, both powerful ways to brand your bags, boxes, and more. Look for these badges in catalogs and on Stuller.com.

Hot Stamping

Digital Imprinting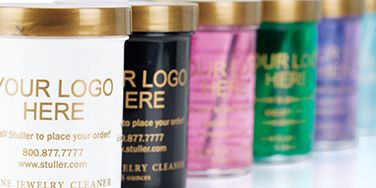 CUSTOM JEWELRY CARE PRODUCTS
Send customers home with a custom imprinted jewelry cleaner from Klean Karats®, and they'll remember you when they use it.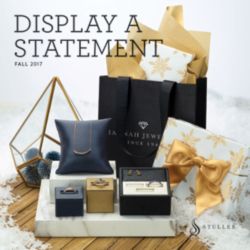 Need Some Inspiration?
Check out the new Packaging and Displays lookbook, Display A Statement, for color and texture trends.

As seen on our Twitter, these videos will better explain visual merchandising strategies to help your customers view your product.
---
What Customers are Saying
"We worked with Gwen to specially design our displays, and she was fantastic. The entire process was easy and efficient, and she was professional and a pleasure to work with. We are thrilled with the product, and they look fabulous in our cases. They are also very easy to use and have held up well with our frequent use. Thank you so much for all your help, and we look forward to working with you in the future!"
- Allison Veranda, Veranda of Vero Beach Inc
"Our experience with Stuller's Case By Case displays has, with no surprise, been Stuller! We fell in love with the options while attending their Bridge conference (which we also highly recommend!). Hannah went above and beyond to figure out which fabric we saw at Bridge and mailed us swatches to approve. She was as professional, friendly, and sweet as we have become accustomed to with all the employees at Stuller. Our displays arrived in the time frame she said they would, and the only thing we didn't like was that we didn't order more! So we are now rectifying that and placing another order. Our cases look amazing and have a freshly updated look. While it can be said that good things come in small packages (and that is certainly true in a jewelry store), we are looking forward to receiving another big box from Stuller's Case by Case."
- The Ladies at Schmidt's Gems and Fine Jewelry