Enhance Your Customers' Experience
Interiors by Stuller will help you create new interactions with your customers and reveal the brilliance of your inventory. With quality showcases, in-case and overhead lighting, wall coverings, and signage, Interiors by Stuller will help you create the store you always wanted. And with financing available, you can have it even sooner than you think.
In The News
The 2014 LUXURY Retailer of the Year Was a Stuller Interiors Store
- JCKOnline.com
Tara & Co places 2nd in Small Cool Division with Interiors facelift
- Instore Magazine
Meet The Team
David Hollingshead and Jim Froeschle have brought Interiors solutions to stores around the country since 2011. With a combined 60 years of experience in retail store layout, David and Jim have the expertise to make your store even more beautiful and inviting.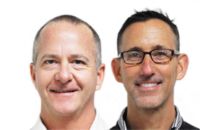 Success Stories
"Interiors by Stuller has given me the ability to rise above all my competition..."
- Pacheco
"We were confident in the…fresh, innovative floor plan that was designed especially for us..."
- Schmitt Jewelers