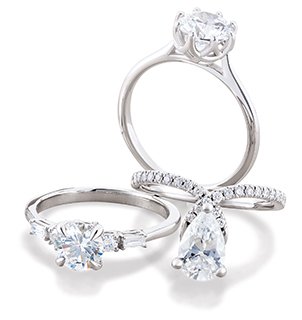 Peerless Platinum
Platinum's unique attributes help you sell it. And with gold prices high, it's an excellent time for customers to buy platinum. The key is to offer platinum as an option and explain the lasting benefits of platinum over other precious metals. The Platinum Center provides valuable information on platinum's features that will help you sell more of it as well as links to our wide selection of platinum jewlery and mill products.
Selling Platinum
Color
Platinum's natural white never needs plating. It's color doesn't change, and over time, platinum jewelry develops a characteristic patina — the hallmark of authenticity.
Security
Platinum's strength provides maximum security for diamonds and gemstones. Whatever metal customers choose for the shank, suggest a platinum head to secure their stone.
Heirloom Quality
Platinum's durability and density mean that it will weigh the same in 50 or more years as it does today. It is ideal for a family heirloom future generations will know and love.
Care and Maintenance
Customers can clean platinum at home with a jewelry cleaning solution. And once a year, have customers bring their platinum jewelry to you so you can check the stones and polish it.
Training Modules
History & Heritage of Platinum
Today's Platinum Consumer
Guiding The Buying Decisions
Related

Blog Posts and Articles
Peek Inside the 2020-2021 Packaging & Displays Catalog
New product, focus on custom imprinting part of new book
A great way to keep your customers engaged long after they've left the sales floor is through your packaging. Make sure your packaging is a reflection of your brand and your store's personality and has your name on it...

Read More
Try Stuller's Packaging and Display Custom Imprinting Services
We offer a comprehensive assortment of packaging and display items, imprinting services, and add-on favorites.
Stuller is here to help you do just that: boost your brand, personalize your packaging and display, and keep your store fresh in customers' minds...

Read More
How to Leverage Custom Imprinted Jewelry Packaging
Add colors and coordination to secure your branding in the minds of consumers
Perhaps you've had your jewelry store for years now. You've established yourself within the community after servicing multiple generations. Your store has excelled as a reliable force for customers in the area...

Read More