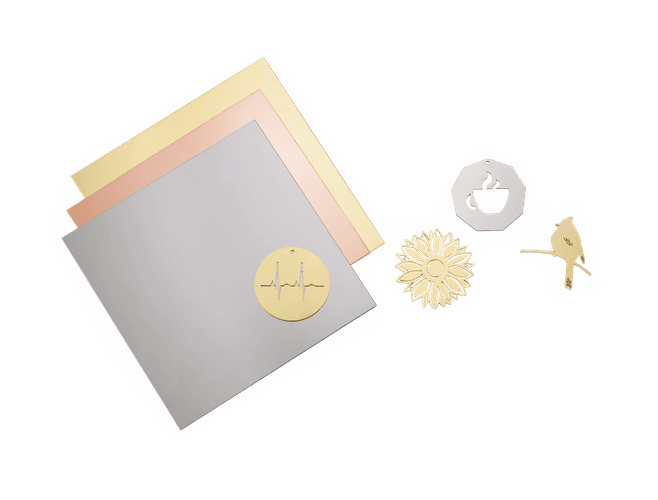 Your Metal Options
Our sheet ranges from 10 to 30 gauge (B&S Gauges). Available metal qualitites include
10K yellow, white, and rose gold
14K yellow, white, rose, and palladium white gold
18K yellow, white, rose, and palladium white gold
platinum ruthenium
Sterlium Plus®
View Size Chart
How it Works
Email your design to CustomLaserDesigns@Stuller.com.
You'll receive email confirmation of receipt within 1 business day
Your design is sent to our verification team for review.
Once verified, you'll receive a proof and quote within 2-3 business days.
Once we receive your quote approval, we'll set up a specific item number for your design.
When the item number is ready, you can place orders* and use next-day shipping to receive the finished designs.
Quick File Guidelines
Vector files (such as .ai or .dxf files) work best, so we prefer those.
If work to the file is required, an additional $25 minimum fee will be applied.
Note:
There is a one-time fee of $39 per new design. This is for creating an archive for your file so that reordering that specific design is quick and easy for you.
Please note that since these pieces are custom made for you, we cannot issue refunds.
* Excluding silver of 10 dwt, there are no order quantity minimums.
Questions, comments, or concerns? We'd love to help. Email CustomLaserDesigns@Stuller.com, or call 800 877 7777, ext. 3631.
We're here to help
Start your design by completing the following form.