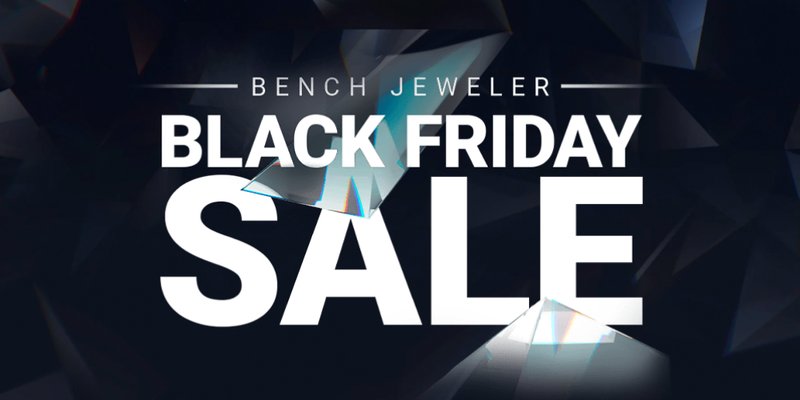 Count down to these dynamic deals for Black Friday with an exclusive preview of the top items chosen by our team.
It's time — we've reached the busiest shopping week of the year, and in just three days, a weekend packed with spectacular savings begins! At Stuller, we aim to provide you and your business with the right tools and essentials to succeed, and for Black Friday, you can shop your wish list at discounts you'll love.
Whether you're stocking up favorites for the bench or grabbing new additions for your business, celebrate the holiday season by exploring items that are sure to increase sales throughout the year and into 2023. As you count down to the weekend, let's dive into a sneak peek at what you can expect to see for this year's Black Friday sale on Stuller.com.
Tools for Success
Finding the right tools for your business can save time, build confidence, and boost your bottom line. With this in mind, our team is bringing you savings on items and equipment that are sure to help with everything from holiday sales to business goals for the upcoming year. Here are two hot items you can expect to see:
Add professional imagery and videos with the ease of the GemLightbox Macro to show off dazzling diamonds and gemstones, all from your smartphone. Take advantage of this upcoming sale and stay at the top of your game as we head into the next year.
With minimal vibration and a simple, compact design for ease of use, the Grobet USA® Prime Series Brushless Micromotor kit is a core addition to any bench.
Findings: On-Hand Essentials
Findings and jewelry components are reliable elements to keep in your offering and having settings and shanks on hand make easy additions for creating a piece to remember. Check out three bestselling picks to watch out for this Black Friday, brought to you by our experts:
From last-minute holiday requests to building your basics, these Black Friday discounts will help to complete any bench jeweler's wish list.
Refresh Your Case with Packaging and Displays
Having an assortment of eye-catching packaging and display items creates a shopping and unboxing experience that will always keep you top-of-mind for your customers, old and new. Elevate your business with items that make an impact and create a memorable impression, at prices that fit your budget.
Take advantage of sale pricing on items like these for last-minute gifting, or start the new year prepared with a new look for your business.
Need tips on display ideas? Check out one of our recent articles on how to take your case and unboxing experience to the next level, and build a trusted relationship with your customers.
Make Your List, Check It Twice
Whether you've got your wish list ready or are still browsing, Stuller has you covered with top picks from our experts at incredible sales pricing. Don't forget to mark your calendar for Black Friday with Stuller.com and get ready to enjoy essentials and equipment you're sure to love beyond the holiday season.
As always, Stuller is here for you — our customers are always our top priority. In showing you the importance and impact of your role in the industry, we continue to provide consistent, reliable service that you can trust, every time. For more information regarding any of the items mentioned in this article, please visit Stuller.com, or call our friendly associates at 1-800-877-7777. To reach our Tools Tech team, please use extension 4300.