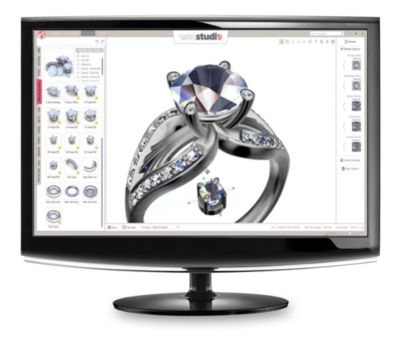 Simplify custom design with
CounterSketch®
Custom has never been easier.
Power up your store and pump up your customer interactions using this award-winning and cost-effective way to design and sell custom jewelry. Then, receive your unique designs in just days from Stuller. Expand your inventory digitally with flexible designs that eliminate the overhead and limitations of live inventory. And it's so easy to use that anyone in your store can express their creativity and take custom design jobs all the way from start to finish.
How it works
Learn about CounterSketch Studio and what it can do for you and your store
Version 4 Preview
Version 4 is easy and inspires creative freedom in both you and your customer
Contact & Training
Find out how to get started
and when training classes
are scheduled
---
How it Works
While working with customers in your store, start by using prototype jewelry such as pieces from our Bridal Prototype Selling System, and combine with a large digital inventory to begin the custom design process.
Then perform real-time 3D changes to the design on screen while the software generates an accurate estimate at any time and creates stunning photo-realistic images of the jewelry.
>
When ready for manufacture, send the design to the jewelry manufacturing experts at Stuller with your choice of finishing and setting options, all from within the software.
More...
The software sends a CAD file of your design directly to the jewelry experts at Stuller for any amount of finishing you desire from a raw casting, semi-finish, polished, to a fully set piece with Stuller stones or yours. Stuller completes your job in 12-14 days, upon approval, for typical jobs. This new way of doing business takes the difficulty and cost out of manufacturing so you can focus on design.
Owner + Manager
Take control.
Don't let volatile metal and gem markets control your business. Gemvision solutions deliver an exceptional buying experience without the high risk of physical inventory. Design in "virtual" metal and make the sale first.
Bench Jeweler
Save time.
Stay focused on the tough jobs by letting Stuller handle the more common designs, or rely on Stuller for a casting and do all the setting and finishing yourself, all without incurring any risk of casting failure.
Sales Associate
Be creative.
Work with customers to create their perfect jewelry. Explore creative design changes with freedom and confidence, then bring your designs to life with stunning photo-realistic images.
Customers
Get inspired.
Excite your current customers to restyle old gems and jewelry. Attract new customers with a personalized, memorable buying experience and become a true custom design destination in your market.
CounterSketch Preview
CounterSketch is easy, and inspires creative freedom in both you and your customer. Whether you're altering an existing design or conceptualizing a design from scratch, CounterSketch is packed with everything you need.